As an affiliate I may earn from qualifying purchases
I love RVing – and I can't do it without my portable generator. Using a generator with your 50amp RV opens up so many more possibilities, and we want to help you find the best generator for your 50amp RV.
Many with a 50 amp RV, do not need a generator that provides the full 50 amps. Here's our helpful guide on the ideal size generator for your 50 amp RV.
Our 3 Best 50 AMP RV Generator Picks
[1] Durostar DS12000EH Portable Generator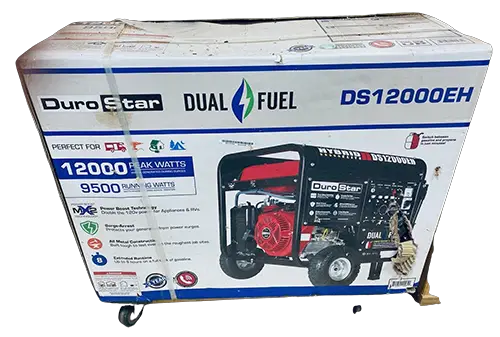 However, if you would rather have the capacity to fully power your 50 amp RV, then the top models below are the best RV generators in the market today!
If you are looking for a powerful generator with dual fuel technology, the DS12000EH is perfect for your needs!
With 12500 peak watts and 9500 running (using gasoline), this generator is great for emergency backup or to cover the needs of your 50 amp RV.
This generator is highly rated and comes with a number of quality features. While it is a tad on the heavy side, that's the price you pay for dual fuel technology. All-in-all, this is a great generator for 50 amp RVs.
Fuel Tank / Runtime: The DuroStar DS12000EH has an 8.3 gallon fuel tank capacity with a half-load run time of around 9 hours using gas.
Sound Level: Approximately 74 dB at half load.
Features: The DuroStar DS12000EH Portable Generator comes with 12000 peak watts and 9500 running watts using gasoline. As a dual fuel generator you also have the option of using propane which can produce 11,400 peak watts and 9,025 running watts.
Ideal for home back-up power needs or RV camping. With MX2 Technology you can choose between operating the generator at both 120V and 240V simultaneously, or at 120 only with full power (perfect for RVs). 
The power panel includes: 2 120V household GFCI outlets, 1 120V 30A twist lock outlet, 1 240V 30A outlet, and 1 240V 50A outlet. The panel also includes a voltmeter and 12V DC charging posts for charging external batteries.
Weight: 260 pounds
Warranty: 3 Year
Portability: Wheel kit included with lift brackets.
[2] Champion 12000 Watt Portable Generator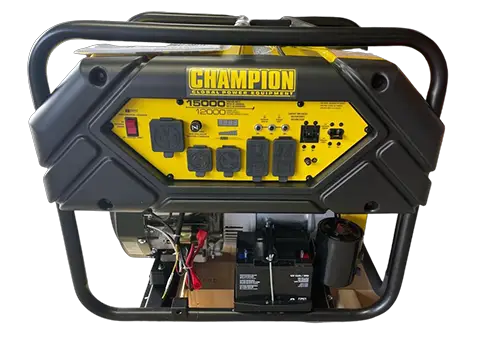 If you are looking for complete 50 amp coverage (meaning 12000 running watts, not peak), then this beast of a RV generator is for you!
At 15000 starting and 12000 running watts, the Champion 100111 unit is perfect to run your entire RV – including multiple AC units!
This massive generator comes with electric start and loads of features you would expect with a premium unit. Just remember, in order to get 12000 running watts, the unit is heavy and a bit louder than other units. Check out our tips on reducing generator noise.
Fuel Tank / Runtime: The Champion 12000 has an 10.9 gallon fuel tank capacity with a half-load run time of around 9 hours using gas.
Sound Level: Approximately 78 dB at half load.
Features: The Champion 12000 Portable Generator is designed to power in your house or 50 amp RV with ease. The massive 717cc V-Twin Champion OHV engine has what it takes to handle the multiple power tools and large equipment at the same time. 
Equipped with a handy electric start with included battery, plus Cold Start Technology ensures a quick start in cold weather. The Intelligauge monitors voltage, frequency and operating hours, while the Lift Hook, foldaway U-shaped handle and never flat tires make it easy to load, unload and move your power where you need it. 
At 15,000 starting watts and 12,000 running watts, I know this powerful unit can handle it all – lights, sump pump, refrigerator, modem/router, security system, window AC, furnace blower, fan, TV/DVD, computer, well pump, microwave and will start and run a central AC with a manual transfer switch (not included). 
Outlets include 120V 30A (L5-30R) and 120/240V 30A (L14-30R) locking outlets, a 120/240V 50A outlet (14-50R) and four 120V 20A GFCI protected household outlets (5-20R).
Weight: 330 pounds
Warranty: 3 Year
Portability: Wheel kit included with lift hook
BEST VALUE
[3] Firman P08003 Remote Start Gas Portable Generator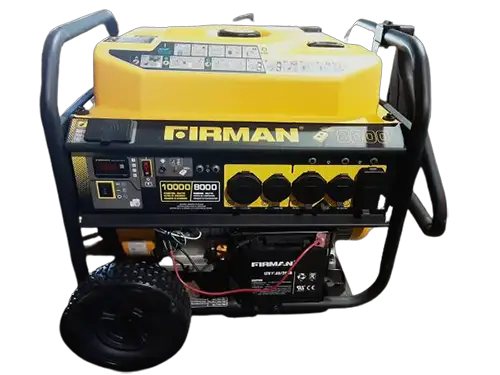 No matter what I use the Firman P08003 Remote Start Gas Portable Generator for, it will be able to withstand continuous use. This rugged RV generator is ideal for anything from a construction site to a camping trip.
The Firman generator features a very sturdy frame, with wheels and handles attached for that extra bit of portability. The output is pretty decent too, with this generator providing 8000 running watts and 10,000 starting watts.
If you own an RV then this will be more than sufficient for powering the vast majority of your electronics. You can even power up a number of tools at once with this generator.
In addition to this, the generator comes with an 8 gallon fuel tank. This means that you could realistically anticipate around 12 hours worth of running time when the generator is only on around a 50% load. It also has a digital gauge and a recoil/electric start for convenience. 
Pros
Portable
Durable
Large fuel capacity
Cons
RUNNER UP
Duromax XP12000EH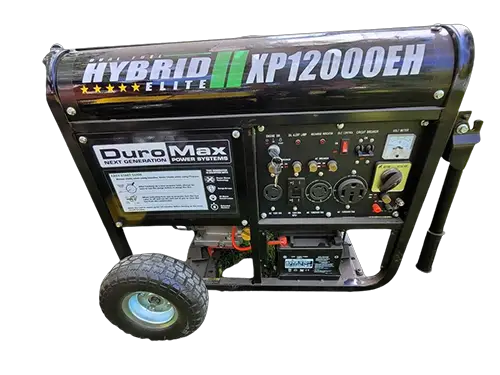 If you are looking for a reliable generator to use for a range of different applications, then you should certainly consider the Duromax XP12000EH.
This generator is absolutely one of the best hybrid generators on the market, and you really can't go wrong with the flexibility offered by a dual fuel generator.
Economically speaking, running this generator on propane rather than gas is quite beneficial for you in the long run, so that's already a big selling point. In addition to this, the generator is incredibly powerful across the board.
From this RV generator you will get 12,000 starting watts and 9500 running watts in total. Pretty impressive as a whole – and that's just from gas! If you run the generator on propane you will get slightly less.
The generator is capable of running for around 7 hours on propane and 8 hours on gasoline at a 50% load. This is pretty decent and should be ideal for running your electronics in an RV.
Of course, the generator is a little bit heavy which can make it challenging to move around, but many generators around this size have that same problem.
Pros
Decent run time
Dual fuel 
Powerful
Cons
Best 50 AMP Generator Buying Guide
Why Buy a 50 Amp Generator?
You may be tempted to opt for a smaller, more compact generator to save on price like I was. Sure, it's suitable for things like emergencies and smaller electronics.
The fact remains, however, that a compact generator simply will not be enough to power all of your key electrical items if you get caught in an emergency situation where you need power.
It's vital to get a generator that will have a higher wattage than the starting and running watts of all the appliances that you need to operate.
This is essential as it means that you will be more than capable of running all of the appliances properly. A 50 amp generator is pretty much vital if you want to run a number of appliances at once.
In the event that you don't plan to run them all at once, a 50 amp generator is still the best choice as a portable generator may only be capable of giving your around 25% of your overall energy needs.
Okay, so why exactly do you need a portable generator at all? There are a number of reasons why a portable generator is a good investment.
For starters, if you own an electric car then you can actually use a generator as a little charging station. Generators also allow you to have a power source when you're doing things like DIY projects that require power tools – no batteries or extension cords required.
They can even keep electric pumps powered up in an emergency situation.
In addition to this, they're a great choice for camping trips if you want to stay connected to electricity and keep your creature comforts.
Things to Consider
When it's time to buy your 50 amp generator, you really shouldn't just buy the very first thing that you see. In fact, there are a number of key considerations that you should make before you make your purchase.
Here are a few of the things that you should keep in mind.
Parallel Capabilities of 50amp generators
In some situations, your generator may not be able to give you all of the power that you need to keep your electronics running. In these situations, you should keep an eye out for generators that have parallel capabilities.
This essentially means that if you want a little bit of extra power, you can buy two of the same generators and combine them together in parallel. Not all generators have this functionality.
Sure, the vast majority of generators will give you just enough power to operate your microwave, A/C, refrigerator, fans and more, but at some point you could be stuck in a situation where you need to power much more than this.
If you don't have enough power, your appliances may not perform well, or you can actually damage the generator. Certainly not ideal.
Most generator manufacturers will suggest that you don't run numerous appliances at once on just one generator, so if there are a number of appliances that you need to power up at once, then look for a generator with parallel capabilities.
Weight
The portability of your generator is largely determined by its weight. Unfortunately, the vast majority of 50 amp generators on the market are exceptionally heavy because they have pretty big engines.
This often means that they aren't quite as portable as many smaller options.
If you are worried about weight then of course there are options on the market that are lighter. In fact, there are also some options out there that come with wheels so instead of lifting them you can wheel them from one place to another.
On occasion you may need to lift your generator, but wheels can help with this. Nevertheless, before you invest in a generator you should clarify whether the weight is going to be suitable for what you need. 
Noise of a 50amp generator
It goes without saying that every generator is going to create at least a little bit of noise, but this amount of noise can differ from generator to generator.
The vast majority of recent generators actually use something called Quiet Technology which reduces the amount of noise that they are capable of creating. If you're looking to buy a quiet portable generator with 50 amp RV outlet– the Durostar is probably your best bet.
They can still make noise even with this generator, so while it won't be completely silent it probably won't make as much noise as some other options out there.
On average, most 50 amp generators will create around 55 – 70 decibels of noise. This can be a little bit annoying if you're in a crowded RV park or your generator is in your house.
However, if the generator is working at around 25 to 50% of its capacity then it's in Eco Mode. This will mean that it will produce a lot less sound than usual.
If you are operating the generator at its total capacity then it's going to make far more noise than what the manufacturer's specifications actually suggest. So, in short, noise output is a key consideration to make when you're selecting your generator.
The last thing you want is for your neighbors to be complaining that you've kept them up all night with your noisy generator. You should look for a generator that produces an amount of noise that you can deal with, and try to keep it somewhere discreet when you're using it to reduce irritation to yourself and your family. 
Fuel Type for a 50 AMP generator
There are some generators that can only run on a certain fuel. For instance, some of them will use propane, or diesel, though gas and propane are usually the most common.
In addition to this, there are a lot of generators that are capable of running on one or two different fuels. Diesel generators are usually pretty difficult to come by.
It's important to note that some fuels can wildly differ in terms of cost, so you will need to think about the long term affordability of the fuel type that you opt for.
In addition, you should be trying to get a generator that will use the same sort of fuel asyour RV.
This will means that you can buy fuel for both types, making it much more convenient to transfer fuel types if you need to.
You will generally find that propane generators have an extra benefit in that they last longer than gas or diesel generators. With that being said, you will need to think about whether you are going to have a propane refilling station available to you. 
Warranty
You will find that the vast majority of portable generators come equipped with a warranty that will span a number of years.
If you only intend to use the generator in case of emergencies or for the odd camping trip once a year, then you can opt for pretty much any brand and not worry so much about warranties.
If you intend to use the generator on a construction site and numerous people are going to be using it, then you should be looking for a commercial generator that comes with a longer warranty.
Outlets and Power
To begin with, you're going to have to work out the amount of power that you're going to need for whatever you're doing. Most generators will come with starting watts and running watts, so you will need to figure these out first.
Running watts are what the generator can supply on a consistent basis, whereas the starting watts are what the generator can provide straight away once it's booted up.
Certain appliances will need high starting watts to get powered up right off the bat.
In addition to this, you should think about the kinds of outlets that you require. The vast majority of generators will come equipped with 120V AC outlets, and may have a small amount of USB ports.
If your generator is larger -around 4000 watts – then it could come with a 240 Volt and a 120 Volt AC outlet, in addition to some USB ports.
In addition to this, if you plan on using the generator mostly outdoors then you should look for a model that has GFCI protected outlets.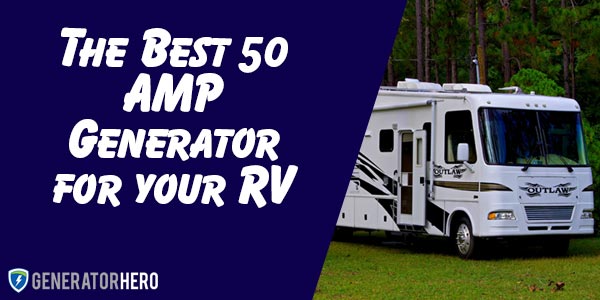 FAQ
Is it possible to run a generator that's low on fuel?
Sure, it's possible, but it's really not a good idea. If you intend to do this then you will have to shut it down every now and again to make sure that it can cool properly.
Whatever the case, you will need to refuel it after a while. There are some generator models that come up with backup power options and low oil auto shut off, but it's important not to rely on these features if you want to be able to use your generator for many years to come.
Is gasoline or propane the best power source?
It largely depends on personal preference. 
However, propane usually makes less mess, it's more economical in the long run and it runs smoother so it's generally considered to be the better option of the two.
Should I Plug My 50 Amp Into a 30 Amp Service?
Many campgrounds or RV lots come equipped with power sources, most are rated at 30 amps so great for you with a smaller RV!
If you have a 50 amp RV, what are your choices?
If you are in a real pinch, you could use a dogbone electrical adapter. But this is really not a good choice since your 50 amp RV will be trying to pull a higher load than the 30 amp source is able to provide.
The wattage of the 30 amp service is 3600 (30 amp times 120 volts). (check out the best 30 amp rv generators) Compare this to a fully loaded 50 amp RV that may have total peak wattage of 12000 for all appliances. Can you see where this is going?
Most circuit breakers on the 30 amp service work with a tolerance of around 20%. This means that if you start to pull anything over 4320 watts (3600 x 120%) you will trip the breaker.
There may be others also connected to the same service, so in reality you have less than 4320 watts to play with.
If you find yourself using a dogbone adapter, you could always be very careful what appliances you run at the same time, but I would only consider that as a last resort.