Everybody feels the impact when gas prices soar. 
Unfortunately, we can count on this every time there is a natural disaster or some other disruption to the normal supply chain.
Gasoline has become an everyday part of modern life, and it can be hard to imagine what life would be like without it. So when gas prices go up, many people feel like they don't have a choice.
Propane is an alternative to gasoline that offers several advantages – particularly within the context of emergency backup generators.
First, propane burns much cleaner than gasoline. This means little to no carbon monoxide is polluting the air, and less ventilation is required than what is necessary to negate the kinds of exhaust fumes that gasoline puts out.
This can be quite important for portable generators being stored and used in garages, for example. (Do NOT run a portable generator in your garage.)
Compared to gasoline, propane generators emit 12 percent less c02 (carbon dioxide) emissions, 20 percent less NOx (nitrous oxide) emissions, and produce 80-percent less of the smog-producing hydrocarbon emissions contributing to air pollution. 
Ethanol, or combustible alcohol, is another alternative fuel that also burns cleaner than gasoline, but mechanical components exposed to it suffer far worse than those exposed to propane or even low-grade gasoline.
Simply put – unlike gas/diesel, propane is cleaner burning and does not degrade with time, relative to gasoline.
We've written a helpful article outlining how much propane a generator uses that's worth reading as well.
Pros and Cons of Propane Generators
Unfortunately, propane-only generators can be difficult to find. This is largely due to gasoline providing more power overall, despite propane burning cleaner and remaining usable for longer.
Pros
Propane remains shelf-stable for a far longer time; ten years or more.
Because propane is stored under pressure, there is no need for pumps, tubing, or piping to transfer fluid, as with gasoline.
Propane burns much cleaner than ethanol, gasoline, or diesel.
Because it burns so much cleaner and there is no need for pumps or other mechanisms, there is very little maintenance beyond valve and seal inspections to be performed.
Propane cylinders come well-sealed, not allowing dangerous fumes to escape.
Sealed propane cylinders will not accidentally spill or splash combustible liquids.
Propane does not degrade or thicken in cold weather like diesel, nor does it evaporate in hot weather like gasoline.
Propane offers almost twice the energy density of natural gas.
Propane often costs less per gallon than gasoline, and its price stays more stable (predictable).
Cons
Propane engines wear out far more quickly than diesel.
Propane burns cleaner, but also faster than gasoline, and especially diesel.
Anything larger than what is used on a grill (~25 lb.) will come from vendors that are spread out.
Larger tanks are more practical for extended emergency use, which require higher costs upfront to fill (less relevant to portable generators).
There are definitely some advantages to using propane to power a generator. Most of these stem from how clean the propane burns. 
Simply put, gasoline burns hotter, but dirtier. 
This translates into a higher power output per unit of fuel but includes an inherent rise in maintenance requirements as well.
Today, virtually any portable emergency backup generator you come across that accepts propane will also accept gasoline. They will have separate tanks, and usually include a switch of some sort on the interface to change between fuels.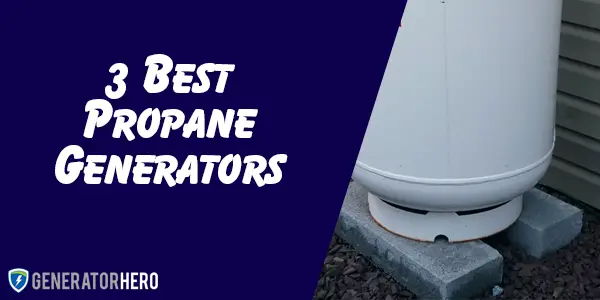 Understanding the Numbers on Dual-Fuel/Propane Generators
What you need to understand to make sense of all the different numbers you'll see on dual-fuel generators is that each fuel used in combustion has an energy density. 
How well this energy density can be delivered from the fuel to the power delivery is determined by the process – in this case, combustion. The more energy that makes it through the combustion process, the higher its efficiency.
The energy density and the efficiency of the given fuel's burn determine the maximum power that can be delivered. Because the combustion engine is essentially a transmission of the energy released during the ignition of the fuel, larger engines can burn more fuel, thereby creating more energy.
This is important to understand because propane-only generators are few and far between. Propane may be what you want, but you're going to find that most of the generators on the market that will run propane are technically dual-fuel, meaning they will run on either gasoline or propane. 
These dual-fuel generator models are, in my opinion, the only models to consider for portable emergency backup use. 
Propane is far more shelf-stable, and with regular valve inspections and proper storage conditions, can remain viable for anywhere from 10-30 years.
You'll want to replace a propane cylinder every 10 years, at the most, but you get my point. You throw the generator in the back of a pickup or SUV, take it anywhere, and use the tank off the gas grill to run it. It is the ultimate "bug-out" or disaster recovery power supply available to the homeowner today.
And portable dual-fuel generators can be purchased, stored, and used with whichever size of propane tank you can manage, by the way. You can always install larger tanks and piping to connect your current generator down the road.
---
Now that we've cleared up why everything comes up dual-fuel when you search for "propane generator", let's take a look at my top 3:
Best Propane Generators
[1] Westinghouse Outdoor Power Equipment WGen9500DF Dual Fuel Portable Generator
Key Features
8500 Running Watts and 11200 Peak Watts (Propane)
9500 Running Watts and 12500 Peak Watts (Gasoline)
Remote Start-equipped (w/ incl. key fob), as well as electric and recoil start 
Up to 12 hours of run time on a full tank (6.6 Gallons) 
Equipped with a built-in fuel gauge for easy monitoring of fuel levels
Features two GFCI 120V 5–20R Standard Household Receptacle, One Transfer Switch Ready 120V L14-30R, and One RV Ready 120/240V 14–50R;
All Outlets Have Rubber Covers for Added Safety
Powered by a Heavy Duty 457cc Westinghouse 4-Stroke OHV Engine Featuring a Long-Lasting Cast Iron Sleeve With Automatic Low Oil Shutdown and Digital Hour Meter
Plug-and-Play: Comes With a Remote Start Key Fob, 12V Battery Charger, Oil, an Oil Funnel, a Tool Kit, and a User's Manual to Get You Started Right Out of the Box (Minimal Assembly Required)
All Westinghouse Portable Generators are Functionally Tested in the Factory and May Contain Minimum Residual Oil and/or Fuel Odor; EPA and CARB Compliant
Backed by 3-Year Limited Service, Labor, and Parts Coverage with Nationwide Customer Service Network
[2] DuroStar DS13000EH Dual Fuel Portable Generator-13000 Watt Gas or Propane
Key Features
Powered by a 16HP OHV 420 cc Duromax Engine.
Dual-Fuel allows flexibility between gasoline and propane.
With DuroMax MX2 technology, get the maximum power from each of the 120-volt receptacles by closing off 240V when not in use.
The XP8500EH is EPA and CARB approved for use in all 50 states.
DuroMax is a brand of generator that has some tenure, having come to somewhat dominate their niche in the market.
Consistently, DuroMax generators offer a competitively priced unit at each output level that has steadily increased the bottom-line of what is expected to come standard in an affordable generator.
The most significant negative I've seen with this generator is related to the "parts-only" warranty. And for the sake of full disclosure, if the warranty is what tips the scales for you, this probably isn't the right choice.
That being said – the high review rating across the longevity of the brand speaks quite highly to its quality. Yes, 10% or so may go out and become damaged in shipping or become the result of other logistical mishaps. That seems reasonable, honestly.
Ultimately, then, if you are confident in your ability to replace basic parts on your unit (skills which are a pretty good idea to develop, honestly), there is quite a bit of value to be found in the DuroMax generator line.
[3] All Power America APGG12000GL 12000 Watt Dual Fuel Portable Generator
Key Features
Gasoline: 12000-watts peak power, 9000-watts rated power
Propane: 9500-watts peak power, 7250 watts rated power
18HP 459cc OHV air-cooled Engine 
Running time: 10 hrs @ 1/2 load
Fuel capacity: 8 gallons 
Operating Noise Level: 76 dB 
Electric Start Button & Recoil Start
2x 120V AC 20A outlets, 1x 120V twist-lock AC 30A outlet, 1x 120/240V twist-lock AC 30A outlet, 1x AC 120V/240V AC 50A Outlet; 
Includes digital hour meter, maintenance-free battery and flat-free wheel kit (buyer installs)
EPA Certified. Non C. A. R. B. Compliant, not available to ship to California
The All-Power America is a new up-and-comer in the affordable line of portable generators that are readily available in e-commerce. Their design choices include many of the features that are found on higher-priced models, such as a digital meter and electric start options.
The first thing on most people's minds with a new name in this tier is the quality.
And once again, the bulk of any negative reviews are related to shipping damages, not manufacturing defects or poor construction.
Let this be a reminder to you to thoroughly inspect your packages before receipt, especially on a larger purchase, and refuse any that show signs of damage. You're not being rude, the drivers anticipate it. And it can often be easier to resolve complaints this way, rather than after you've taken official possession.
Simply put – the All-Power America brings a balance of power and dependability to more people, by offering a competitive unit at an affordable price. 
That being said, I would be remiss if I didn't mention that this is the only model on the list that is not fully C.A.R.B. compliant (making it currently unavailable in California).