As you prepare to research your purchase of a generator, it will be essential to know which ones have good ratings from other consumers.  We have spent some time reviewing generators and prepared this list of the top five brands.
Using consumer reviews will help you find the product that best fits your needs by selecting those used by others.  We have chosen a model from their lineup to spotlight the identified brands, but each has many options with varying wattage and features.  Reviewing other opinions may help you find the right generator.
Our top 5 Best Portable Generator Brands
[1] DuroMax
Check out their models (We may earn a comission)
DuroMax products are engineered and serviced from Ontario, California, USA, and built to DuroMax specifications overseas. DuroMax engines are in all DuroMax generators, water pumps, and pressure washers.
DuroMax's tagline is "Powering Everyone…Anywhere." They view their products as central to creating power needs for home, work, and play.
The generator products feature portable, inverter, and dual-fuel models ranging in wattage starting at 1200 up to the commercial models at  13000.  
The DuroMax XP5500EH Electric Start Dual Fuel Portable Generator
Here is an excellent middle-tier portable generator.  Weighing 142 pounds, this rugged constructed model has the power to run the basic electrical needs of your home or office.  Its starting wattage of 5500 watts can generate the energy needed to run an air-conditioner, refrigerator, or freezer, and lights at a sustained 4500 running watts.
The dual-fuel options offer flexibility and the knowledge that you can switch as needed to keep power flowing to your home, office, or worksite.  It comes with pneumatic knobby-style no-flat tires and flip-up handles for easy moves.
The 224cc OHV (overhead valve) engine provides enough steady power to accommodate your power requirements.  It can run heavy-duty power tools for worksite jobs or give power to the home or office efficiently. 
One consumer measured a quiet noise level of 69dBa, which is less than the typical conversation level of 76dBA.
DuroMax offers the MX2 switch technology to double your 120V amperage for heavy loads, so you can switch from 120V to 240V power as needed.
The digital display offers a voltage use meter.  There are enough outlets so you can power most of your needs.
With no-flat tires and a folding handle for portability, there is no question why this generator has so many good customer reviews.
[2] Westinghouse
Per Westinghouse's website, their generator products "are designed in the USA and made in China or Vietnam under the license and supervision of Westinghouse. Overseas models, such as those for Australia, are developed with local engineering input to ensure regulatory compliance and satisfy customer preferences in their home markets."
Although the Westinghouse generators are produced overseas, they continue to receive high ratings from customers.  Westinghouse's oversight of production has maintained quality while keeping costs down.
The Westinghouse WGEN9500DF Dual-fuel Portable Generator
Of the many models Westinghouse manufactures, we have chosen the WGEN9500DF to highlight here.
If you are looking at a more significant watt generator, many consumers prefer this model.  It weighs 220 pounds.  With a starting wattage of 12500, this generator can handle operating most of your home or office appliances and lighting needs when steadily running at 9500 watts.   
In addition to its dual-fuel availability, the WGen9500DF is EPA and CARB compliant.  Switching between gas or propane is a feature that gives you flexibility and freedom from worrying about running out of fuel.
The remote start is an excellent convenience if you need to stay warm and dry while starting the power supply.  It also has an electric and recoil start feature.
This model comes with a 30-amp and 50-amp transfer switches ready receptacle, a bonus if you permanently place the generator in a shelter as a standby unit.  It is portable and used for job sites, camping, or other outdoor activities.
An additional option for purchase is the Westinghouse smart ST Switch.  When utility power loss is detected, the generator automatically provides immediate backup power to essential items.
The powerful 457cc Westinghouse 4-Stroke OHV Engine is built for heavy-duty work. It comes with a digital hour meter and a low-oil shutdown gauge, no-flat tires, handle and lift bracket assist with portability—the noise level rates at 74dBa.
[3] Champion
Champion Power Equipment manufactures generators for all needs, including portable, inverter, and home standby models.  In addition, they produce engines, winches, and log splitters.  Their motto is, "We make the power that makes your life easier."
Champion, headquartered in Santa Fe Springs, California,  has been in the power equipment business since 2003.  They also have plants in Tennessee, Wisconsin, and Toronto, Canada.  They boast sales of over 2.5 million generators sold in North America.
You can find a Champion portable generator ranging from 1200 to 12000 watts of power.
Champion 3800-Watt + Dual Fuel + Electric Start
We have chosen to highlight Champion's 3800 Watt Dual Fuel model generator.  Among the many models and wattage offerings, this is preferred by customers.
With dual-fuel capability, this model weighs only 122 pounds and is built for portability.  It is a quality generator for outdoor use and is RV-ready.  The electric start feature makes starting quick and easy, although it also has a recoil start if needed.
The 224cc engine runs on gas or propane and can provide power for 9 hours or up to 10.5 hours on propane.  Rated at 69dBa, it has a relatively low noise level.
This model features Champion's Intelligauge for voltage use, as well as a built-in surge protector.  You never have to worry about power surges to your sensitive equipment.
Whether powering your home, office, or camping needs, this little generator can meet your needs.
[4] WEN
With a long history in producing power tools, WEN has been in existence since 1951.  WEN, located in Elgin, Illinois, makes many power tools designed for woodworkers and artisans. 
The generator line includes an inverter, dual fuel, and traditional gas power generators.  Whether you're tailgating, camping, or preparing for natural disasters, there is a WEN generator option for you.
WEN promotes a nationwide network of skilled service technicians if you need assistance with your generator.
WEN 56200i 2000-Watt Gas Powered Portable Inverter Generator, CARB Compliant
If going lightweight with eco-friendly options appeals to you, then the WEN 56200i is for you.
This portable generator is a little gem for camping, worksites, tailgates, or other outdoor activities.  The inverter model has 2000 starting watts and runs at 1600 rated watts of power.  At just under 50 pounds, this lightweight generator can travel anywhere.
It features a 79.7cc OHV engine that runs at a very quiet 53dBa.  It has an eco-mode throttle that automatically adjusts fuel use as items are plugged or unplugged. 
If you need more power, a Parallel Connection Kit is sold separately so you can link another 2000-watt generator.
Another feature is the low-oil and low-fuel shutdown. Rated as EPA and CARB compliant, this generator has many benefits to meet your power needs.
[5] Jackery
With a significant movement in independent and off-the-grid lifestyles, we would be remiss not to offer a solar option in generator use.
As a recent player in the generator market,  Jackery is a global energy leader producing outdoor solar utilities. Created in 2012, they have quickly grown to become one of the biggest manufacturers of solar power.
Jackery's home office in Fremont, California, distributes their solar panels and products that are built in China.
Jackery products meet regulatory, safety, and environmental standards.  Their solar generators combine a power station with solar panels to provide reliable and clean power.
Jackery Portable Power Station Explorer 1000, 1002Wh Solar Generator
If living off-the-grid is essential to you, the Jackery Portable Power Station may be your choice of generator.  Unlike the gas or propane engines in other generator models on the market, the Jackery has zero Co2 emissions.  It produces a 7dBa noise level, which is nearly a whisper.
The power station stores electricity from the solar panels.  To use the generator, simply press the power button.
The 1000watt generator is powerful enough to run your full-size refrigerator, TV, heater, electric grill, and blanket.  Use it outdoors or for your primary home needs.
Another affordable brand to consider is the Sportsman generators. They aren't made in the US, but they do make a very popular line of generators that we are fans of.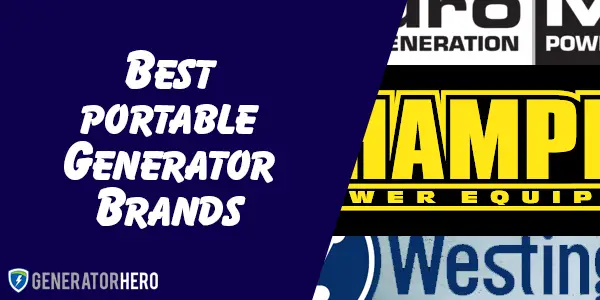 Conclusion
You have seen a variety of generator options with outstanding customer reviews.  Each brand has many models for you to choose from and offers a diverse range of styles and features.
Of course, your generator choice will depend on many things.  Whether you choose to use it for fun or as an emergency backup, the generator size depends on your needs.  Once you determine how many watts are needed to provide electricity for your home, office, or outdoor use, be confident that the generator you buy will be the right one.
When purchasing any wattage generator, read the reviews and make the best choice based on the ratings.  Your knowledge that others had good experiences with their products will make your decision less stressful.