A quality generator is one of the most important pieces of equipment that you can have to prepare for a disaster, help you get through projects in your yard, or keep your campsite powered.
A reliable generator can power your house's essential appliances – like a heater or air conditioner – if you decide to ride out a disaster, or it can keep the comforts of home nearby if you decide to head into the backcountry for a weekend.
One of the main problems with typical generators is that gasoline is expensive and hard to store. Worse, in an emergency, you won't want to be waiting around in gas lines just to fire up your generator.
That's where dual fuel generators come in. These extremely versatile generators are able to run on either gasoline or propane – so you have a choice of what fuel to on hand depending on what works best for you.
In addition, propane has a terrific advantage over gasoline.
Gasoline is tricky to stockpile because it goes stale after just a few months of storage – and putting stale gasoline in your generator is a quick way to destroy the engine.
But propane last for years. You can keep propane around the house in case of an emergency, or store in your truck or RV to use over the course of an extended trip.
Even better, propane is far cheaper than gasoline so it won't break the bank to keep a few canisters around.
So Why Doesn't Everyone Have A Dual Fuel Generator?
For the most part, it comes down to cost. Most people don't feel like they would need to use propane instead of gasoline for their generator. And if you're just comparing conventional and dual fuel generators based on rated performance, dual fuel generators tend to be more expensive.
It's also worth noting that most dual fuel generators have a lower rated wattage when running on propane.
To help you find the best generator to prepare for an emergency, I put together a list of my top dual fuel generators.
I'll break down everything you need to know about each of these generators, from power and performance to features that can make it easier to use no matter what you need a generator for.
[1] WEN DF475T 4750 Dual Fuel
This 4,750-watt maximum power generator from Wen is a direct competitor to the DuroMax generator. It sports a similarly attractive price tag and a set of heavy-duty wheels to make it portable enough to bug out with when needed.
It's easy to toggle the voltage between 120 and 240 volts, which allows you to hook this generator up to run an RV or large home appliances.
In addition, an automotive-style muffler makes this generator surprisingly quiet for its size.
The electric and recoil starter options offer convenience and reliability. You can also watch your fuel levels with an included LED display.
If 3,800 watts of running power are enough to power your essentials, it's hard to beat this generator for the price.
Pros:
Attractive price
3,800 running watts
Steel-frame with wheels and fold-down handles
Toggles between 120- and 240-volt power
LED hour meter
Electric and recoil starters
Cons:
Only two standard 120-volt outlets
[2] Champion 3800 Dual Fuel
This dual fuel generator from Champion is rather large and burly looking given its 4,750-watt maximum power output. But if you're looking for back-up power for your home or have an RV to bug out in, this unit has you covered.
The generator has two 30-amp twist-lock outlets, one of which is specifically designed to connect to an RV's central power grid.
On top of that, it runs up to 10.5 hours at half load on a standard propane tank or nine hours on a tank of gasoline. The built-in LED display gives you a heads up about how much runtime you have remaining, which is a big advantage if you need to ration fuel.
Importantly, while this generator offers an electric push-to-start button for convenience, it also has a standard recoil starter so you can get it running even if the built-in battery is dead.
Pros:
RV-ready 30-amp outlet
LED display
5-hour runtime at half load
Electric starter
Cons:
Bulky and heavy for its size
[3] Champion 7500 Dual Fuel
This 7,500-watt dual fuel generator is essentially a more powerful version of Champion's 3,800-watt model. It's not much larger given that it doubles the available power, and comes with a second set of 120-volt outlets.
The generator is designed for reliability with a number of features.
To start, it has both an electric and recoil starter. Plus, the generator comes with Cold Start technology that allows the electric and recoil starters to work even when you're starting the generator in the dead of winter.
Champion also backs this generator with a three-year warranty and free lifetime technical support.
The only downside to this generator is its size – the design is at an awkward in between where it's mounted on wheels to be portable, but the generator is too large to move quickly.
Pros:
7,500-watt power rating
RV-ready outlet
LED display
Electric and recoil start
Cold Start technology
Three-year warranty
Cons:
Too large for easy transport
No central breaker
Bonus Picks
DuroMax Hybrid Dual Fuel 12,000
This dual fuel generator from DuroMax is a true beast. With 12,000 watts, you can power your entire home – air conditioner, heater, water pumps, and an entire kitchen – without skipping a beat. This monster made our list of the 3 best 12,000 watt generators as well.
Be careful what you wish for though, as that kind of engine power sucks down a lot of fuel and makes a lot of noise.
A 100-pound propane tank will run the generator for about 20 hours at half-power. That means you'll need to stockpile multiple large canisters if you're planning to hunker down for any outage longer than few days.
Although the generator only has two 120-volt outlets, there are two 240-volt outlets that allow you to plug in a surge strip to provide more space for connecting appliances.
Pros:
Extremely heavy-duty
Two 240-volt outlets
Electric and recoil starters
Volt meter
All outlets protected by circuit breaker
Cons:
Extremely large and heavy
Requires a lot of fuel
Loud
DuroMax XP4400EH 3500 Dual Fuel
This smaller 3,500-watt generator from DuroMax is priced to sell, but don't let the budget cost fool you into thinking this generator can't deliver.
The generator offers 4,400 watts of surge power to get your engine-driven appliances up and running.
On top of that, a 120-volt/240-volt outlet allows you to power heavy-duty equipment like power tools and AC units.
The generator is mounted on a set of large-diameter wheels to make it easy to transport. The steel frame is heavy, but helps to keep vibrations and noise to a minimum.
However, watch out for fumes – this generator isn't certified by the California Air Resources Board, a sign that it creates quite a bit of smog. DuroMax has also had some technical issues with this generator and aren't the best about customer service.
Pros:
Budget price
4,400 watts surge power
Can output 240-volt power
Steel frame with large pneumatic wheels
Volt meter
Electric and recoil starters
Cons:
Not CARB-certified
Poor customer support
Only two 120-volt outlets
Westinghouse 7500 Dual Fuel
This 7,500-watt generator from Westinghouse is a larger version of their 3,600-watt dual fuel generator, with a few important upgrades.
First, it includes an LED display to keep track of remaining fuel and power load.
Second, it puts all of the outlets onto a single main circuit breaker. That allows you to cycle the power load without shutting down the engine, although it's prone to unexpected tripping.
Like the smaller generator, this model also allows you to switch seamlessly between gasoline and propane.
You won't find an RV-ready outlet on this generator. Instead, Westinghouse added a second pair of 120-volt outlets and a 120-volt/240-volt outlet for heavy-duty appliances. There's also a USB port, which is a convenient addition.
Most important, this generator doesn't suffer from the same production issues as the smaller model. You can expect it to work reliably out of the box.
Pros:
LED display
Electric starter with remote control, and recoil starter
All outlets on main breaker
Switches seamlessly between fuel types
120-/240-volt outlet and USB port
Three-year warranty
Cons:
Main breaker can trip unexpectedly
Short six-hour runtime on 20-pound propane tank at half load
Champion 3,400 Dual Fuel
This compact dual fuel generator from Champion is ideal for taking on the road. It features an RV-ready 30-amp outlet so you can easily power an RV or campervan.
On top of that, the generator weighs just 95 pounds and comes with a set of stowed-away wheels so that you can easily take it with you and move it wherever you need.
What really sets this generator apart is that it's an inverter generator. That means the power it produces is relatively stable, so you can feel safe plugging in sensitive electronics light computers and smartphones.
The only downside to the compact design of this generator is the fuel tank. It's quite small, so if you are running on gasoline you can expect just a short 7.5 hours of runtime at 25% load.
Pros:
RV-ready outlet
Compact and lightweight
Electric and remote starters
Inverter generator
Relatively quiet
Three-year warranty
Cons:
Small fuel tank
Wheels can get stuck on rocks and gravel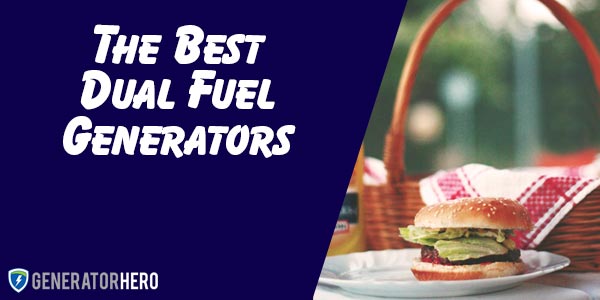 Best Dual Fuel Generators Buying Guide
The Efficiency of the Engine 
The dual fuel generator engine efficiency means how much fuel will be consumed in order to produce energy. Therefore fuel consumption and even your tank size should be considered as dependant on the efficiency of your generator engine. 
If your engine is inefficient then you will face many problems. Your engine will get low on fuel fast as it will consume fuel at a much faster rate.
Even with a high capacity tank, you will face having to top up your fuel tank, perhaps twice as much as you should need to, maybe even more. 
If this is the case, you may face other issues such as unwanted amounts of harmful exhaust fumes caused by the improper burning of fuel. Regardless of whether or not your engine is high or low power, you should always do well to ensure engine efficiency. 
Many of the dual-fuel generators we have looked at are engine efficient, such as the Pulsar G10KBV, which has an efficient and steady power output, giving an admirable performance between power output and fuel consumption.
Others have not too admirable usages, such as the Duromax Hybrid Dual Fuel 12,000, which consumes fuel at a very fast rate. Similarly, the Duromax XP44OEH 3500 Dual fuel, could be considered on the brink, as it's lack of certification by the California Air Resources Board, hints at smog production.
If it releases fumes, that likely is because it has an inefficient engine.  
Duel Fuel Generator Fuel Capacity 
A dual fuel generator is powered by gasoline and propane, these will each have a designated fuel tank in which they store the fuel.
Each tank is different for each generator, making each tank capable of holding varying amounts. Fuel capacity is measured in gallons. 
A high capacity tank will offer many useful features. They will require less frequent refills and they will also provide uninterrupted power output for much longer than generators with smaller tanks. Tanks with a larger capacity tend to be slimly available as premium options. 
An example of one of these would be the Westinghouse 7500 Dual Fuel generator we have looked at or the Pulsar G10KBN. 
Duel Fuel Generator Ratings and Peak power outputs 
Noting the power output available is useful, especially for those who intend the primary use of their generator to be for back-up power. It may be baffling to understand the peak capacity and ratings of your generator.
Simply explained there will be two output ratings per fuel on a dual fuel generator. Each will be rated by the peak output the generator is capable of.
As the values will differ between gasoline and propane, there will be four output values on every dua fuel generator. 
As to avoid complications, it is wise to consider the peak capabilities of each fuel type when you are purchasing your dual fuel generator, the higher the peak capacity you get the higher running watts you will get. 
In this sense you will get a higher peak for propane and a higher running watts ability should you choose a high peak value for your gasoline output. 
Duel Fuel Generator Size
Generator size is a big consideration when you may be transporting your generator around, should you need it for multiple uses, such as being a back-up generator as well as powering your RV.
Should you need to lug your generator around a lot, you may wish to consider a lightweight generator or one that comes equipped with wheels for easy transportation, such as the WEN DF475T 4750 Dual Fuel, which despite its weight is more mobile due to its wheels than models that lack wheels.
The Duromax XP440EH is also useful in this way, mounted on heavy-duty capable wheels, despite its weight. 
Noise Levels
Dual fuel generators are powered by the internal combustion of gasoline and propane, hence there will be a significant amount of noise, you may be able to find a generator that is quiet or has a lower decibel rating, but it is literally impossible to find a perfectly silent generator. 
Should noise be unbearable, there will be a disturbance and therefore affecting your application.
Although should your primary fuel be propane, you will have many fewer concerns as propane performs near silence, in comparison to gasoline, with its decibel rating usually being around the same as a normal conversation.
The Rockpals 12,000 Dual Fuel, is one of the best duel fuel generators that people who keep quiet should take a look at, as it is one of the quietest generators available on the market.

There are ways to quiet an existing generator by using a quiet box.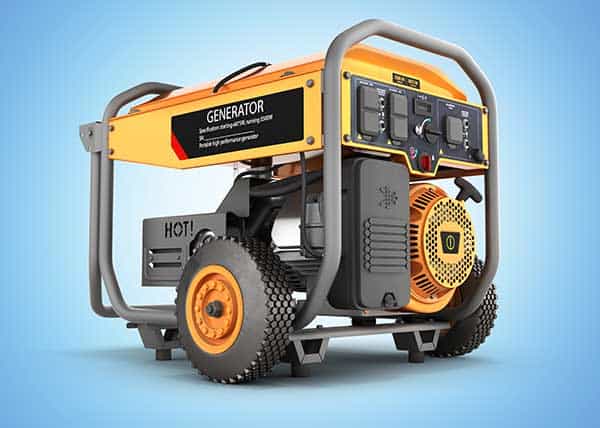 Frequently Asked Questions
Do dual fuel generators output the same power on gasoline and propane?
In general, dual fuel generators will put out less wattage when running on propane than when running on gasoline.
That's unfortunate if you are planning on stockpiling propane for an emergency, but it's simply a matter of physics – propane is less energy-dense than gasoline.
But, if you know how much power you'll need, you can plan around this by simply opting for a generator that meets your power requirements on propane. Alternatively, if surge wattage is an issue, generators that allow you to seamlessly switch between fuel types can let you start up heavy appliances on gasoline and then run them on propane. We'll help you determine how much propane different generators use as well in another post.
Are dual fuel generators safe to use with small electronics?
None of the dual fuel generators I'm recommending are inverter generators, so it's not a good idea to power your smartphone, laptop, or other sensitive electronics off of them.
That's because the power coming through the outlets is less stable and more prone to small surges than your standard household outlet. While most appliances and tools can handle this, any surge at all can do severe damage to microprocessors.
Do I need a CARB-certified generator?
The California Air Resources Board gives its stamp of approvals to generators that meet its strict emissions standards.
CARB certification isn't strictly necessary – unless you live in California. Without a CARB certification, certain generators can't actually be sold in the state.
That said, a CARB certified generator is a good thing for anyone who doesn't like breathing in fumes.
Why are circuit-backed outlets important?
Many of the generators I reviewed have each outlet connected to a circuit breaker, or even have all of the outlets on a main breaker.
That's important because having a circuit breaker means you don't need to turn off the generator's engine in order to reset an outlet after a surge.
While that may not sound like an issue, having to restart the engine every time an outlet trips can be a hassle and a waste of precious fuel. A simple breaker reset can save you a ton of trouble.
Conclusion
Dual fuel generators offer the versatility to switch between gasoline and propane.
While both fuel types have their advantages and disadvantages, having the option to choose can make your life easier on the road or during an emergency.
Choosing a generator is a big decision – but I'm confident any of the 10 generators I reviewed will keep your reliably powered up.