As an affiliate we may earn from qualifying purchases
When shopping for the right portable generator, there are quite a few factors to consider before making your decision. If you plan to use the generator in a suburban setting, you will want a small, quiet generator that won't cause a disturbance. If you are more concerned about keeping your large household plugged in, you will want a generator that can produce a lot of power. Most importantly, if you use a lot of sensitive electronics such as laptops and cell phones, you will want a low THD generator to power these devices safely.
What is THD?
Not all generators are created equal, and depending on the electronics you need, you want to invest in a generator with low THD. THD stands for total harmonic distortion, the measurement of the distortion produced by the generator's amplifier. Generators with a low THD produce higher-quality electricity.
Generators with high THD have the potential to damage sensitive electronics such as plasma TVs, computers, and modern HVAC systems. Most households use sensitive electronics daily, so more manufacturers are producing low-THD generators to power these devices safely.
What is a good THD for a generator?
When shopping for low THD generators for your home, you want to look for generators under 6% THD. Standard generators typically produce anywhere from 9%-15%, which is acceptable for lights, sump pumps, and power tools but can damage and shorten the lifespan of your sensitive electronics.
Most manufacturers won't publish their generator's THD data unless it's a selling point. Therefore, while shopping for your portable generator, you can assume it will not be safe for your sensitive electronics if you don't see any information on THD. 
3 Best Low THD Generators For Quiet Operation
Many features make a generator desirable, such as run time, weight, cost, noise level, etc. You must determine the features most important to you to choose the right generator for your household. Below are the top 3 low THD generators of 2022.
| Model | THD | Rating | Price |
| --- | --- | --- | --- |
| Honda EU2200i | Less than 6% | 5/5 | $$ |
| Westinghouse WGen12000DF | Less than 5% | 4.8/5 | $$$ |
| Generac XT8000EFI | Less than 5% | 4.8/5 | $$ |
1. Honda EU2200i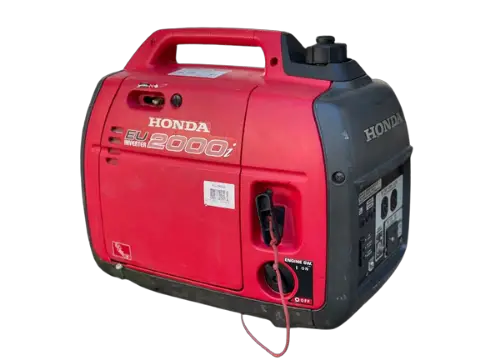 THD: <6%
The Honda EU2200i generator is ideal for a home in a suburban neighborhood where you will want to keep disturbances to a minimum. It is also suitable for camping trips and events where outdoor power is necessary, but noisy generators are not allowed. This generator stands out for its compact design (the machine weighs less than 50 lbs) and the fact that it produces little noise while operating.
Its THD levels come in at under 6%, and it is perfect for quick and easy transportation as it will fit in tight spaces. The vent on the gas cap can be closed-preventing fumes from escaping, so you won't have to worry about a strong smell permeating the neighborhood.
The Honda EE2200i features a "low oil" alert that lowers the engine's functionality, so it continues to perform optimally and prevents damages from being overworked. The "fuel shutoff" shuts the generator down when most of the fuel has been used to stop it from using stale fuel and damaging the machine. In addition, the system monitors carbon monoxide levels and automatically shuts the generator down before CO levels become dangerous.
The Honda EU2200i also features parallel capacity meaning it can connect to another EU2200i to provide additional power for your home. In addition, you can power the generator from your phone using Bluetooth, and the app will give you maintenance reminders, operation monitoring, and features wireless stop.
The generator has a maximum output of 120 volts and is ideal if you tend to conserve energy during a power outage. It will easily power your HVAC system, refrigerator, and microwave and work to charge your electronic devices. Still, you will need to limit your overall power usage while using this generator for your home.
While the generator will only operate for about 8 hours with a single fuel tank, the energy delivered is reliable and incredibly clean. Because Hondas are notorious for durability and longevity, this generator will cost anywhere from $1,200 to $1,400. However, it's a wise investment if you want a compact, safe, durable, and quiet generator that produces clean power.
2. Westinghouse WGen12000DF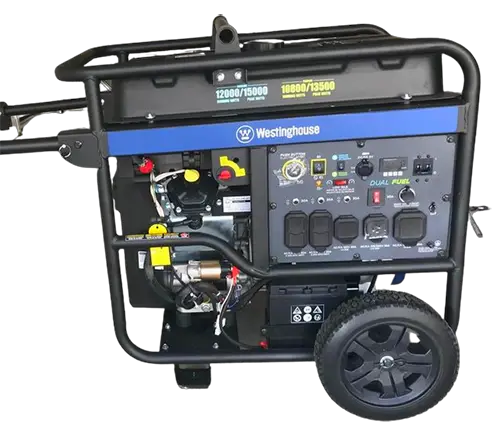 THD: <5%
This generator is ideal if you have a large household that uses a lot of electricity daily. This Westinghouse generator can operate using gas or propane and can run up to 11 hours with a single fuel tank. This model features a remote start, so you won't have to stumble out of bed in the middle of the night to turn it on.
With a maximum output of 240 volts, It can easily power all of your household appliances on top of your entertainment devices, so you won't have to conserve energy when using this bad boy. The WGen1200DF produces less than 5% THD and can safely power even your most sensitive electronics.
While the WGen1200DF does not come with an ST Switch (you can purchase one separately), it does feature an ST Switch outlet, so you can easily connect it to your breaker box via a transfer switch and it will automatically switch power to the generator when needed. You can also use a GenerLink if allowed by your electrical provider.
This generator is bulky and weighs over 300 pounds, so it is not easily transportable. While it features handles and a tough exterior to allow it to withstand rough terrain, its weight limits its portability. However, it can withstand heavy storms, so it's ideal for areas with more inclement weather conditions.
The manufacturer cautions users against running the generator in areas with abundant foliage as it can be a fire hazard, so consider this when determining the best location for this generator. This generator does produce noise levels at around 74 dBA. In comparison, your average vacuum cleaner produces 75 dBA, so while it's relatively quiet compared to other generators with comparable power capabilities, it may disturb your neighbors in a suburban setting.
While customer reviews indicate setup is easy for even the most novice generator users, if you tend to require a lot of technical support, know that the Westinghouse customer support line is notorious for being overrun with calls and long wait times.
The Westinghouse WGen1200DF will cost you around $2,500 to purchase. This model is the best for large households that use a lot of power in areas with heavy storms and want to be ready for the next power outage.
3. Generac XT8000EFI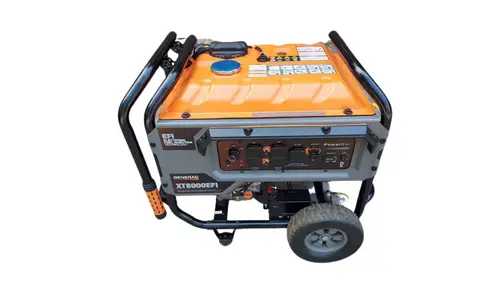 THD: <5%
Newer Generac generators feature "True Power Technology," which minimizes THD (under 5%) and makes these machines safe to power even your most sensitive electronics. This model is incredibly efficient. Like the Westinghouse, this generator features a low oil shutdown to safeguard the machine from damage. A control guard and covered outlets protect the most vulnerable areas of the generator so it can withstand even the heaviest storm.
While the Honda EE2200i is incredibly light at under 50 pounds and the Westinghouse WGen1200DF is bulky at over 300 pounds, this model sits in the middle at 216 pounds. While it is by no means small, the machine has 10″ wheels and a fold-down locking handle which allows for easy movement and storage.
One of this models' most talked about features is the fuel injection technology, meaning there is no carburetor. This carburetor-free design means the machine uses its fuel more efficiently and emits much fewer emissions, so you don't get the fuel smell that comes with many high-powered generators. The machine even has idle control, which conserves fuel so the generator can run longer on a single fuel tank. A data panel monitors the machine's status so you can understand its current power load and keep tabs on its maintenance needs.
The run time on the Generac XT8000EFI is around 9.5 hours on a single fuel tank, and it uses gasoline with a maximum output of 240 volts. However, online reviews reveal the generator is noisy, so be mindful of this if you plan to use it in a residential setting. The price is reasonable for all of the features included at only $1,149.
How to Lower a Generator's THD
If you already own a generator, or are just looking at ways to make it quieter, there are ways to do so. Our number one tip to lower a generator's THD is to buy or construct a generator quiet box. In our quiet box article that we just linked, we discuss tons of ways to get your generator to appear quieter, here they are:
Build a quiet box
Add a muffler
Water absorption (more info here)
Rubber absorption
Plywood boards
Redirect exhaust pipe
Move generator further from where you're using it (if possible)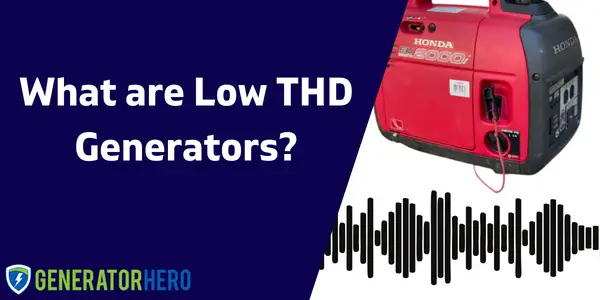 ---
If you have a large family with a need for a lot of electrical power throughout the day and night, you will want to invest in either the Westinghouse or Generac but know these models will be heavier and may produce too much noise for a residential setting.
If you are willing to conserve energy during a power outage and want to invest in a generator that you can more easily transport and one that is quiet and emits very little odor, your best bet is a Honda model. Both the Honda and Westinghouse come with a three-year warranty, while the Generac comes with two. Regardless of the model you pick, you always need to maintain your generator to ensure it lasts for as long as possible and continues to operate safely.
Consult the model's manual and perform regular maintenance based on the instructions. When storing your gas powered generator, make sure to fill up the fuel tank and treat the fuel with a stabilizer-this will help keep the fuel in functional condition. Then, before putting the generator away, allow it to run for a few minutes and distribute the treated fuel through the system.
Being unprepared during a power outage can result in rotting food, unsafe heat levels during the summer months, and a significant disturbance in your daily routine. Avoid these headaches and invest in a portable generator today. Your family will thank you!