Although Westinghouse engineers produce all the designs in the United States at Westpro Power Systems in Pewaukee, Wisconsin, the portable generators are manufactured in either China or Vietnam.
Pennsylvania is considered home for the company founded over 100 years ago. Westinghouse and its subsidiary companies are in 19 countries with diverse product offerings. Outside the United States, Westinghouse has manufacturing facilities in Australia, Canada, China, Europe, India, Japan, Latin America, the Middle East, South Africa, South Korea, and Vietnam.
Westinghouse has a long history as a manufacturer of electric components, engines, and appliances. Founded in 1886, the company provided innovations in steam engines, locomotive air brakes, railway circuits and track systems, hydroelectric generation systems, and steam turbine generators in its first twenty years of existence. Throughout the 21st century, Westinghouse continued to create electrical products and appliances for homes and worldwide industry.
Although Westinghouse built the world's first industrial alternating current (AC) generator in 1891 in a hydroelectric generation plant, it did not enter the portable generator market until 120 years later, in 2011.
With its rich history of electrical products, the past decade has been successful in the portable generator market with models offering gas, diesel, propane, and solar-powered engines.  Their line ranges from inverter generators, open frame generators, and contractor-grade generators.
The generators have wattage offerings from 2200 to 20000 watts.  As well, model option choices include:
Who sells Westinghouse Generators?
As a famous brand name with a rich, innovative history, many major retail companies carry Westinghouse product offerings.  While many regional stores offer Westinghouse portable generators, you may find information and resources for purchase in-store or online at the following (in alphabetical order):
It is a good idea to check your local hardware and equipment dealer as many also carry Westinghouse products.
Engines used in Westinghouse Generators
Westinghouse has made electric motors since its founding in 1886, equipping all its portable generators with its own engines.  The Westinghouse engines are purpose-designed for each model, utilizing a 4-stroke overhead valve design.
Due to the historical success of Westinghouse engine design, other companies have chosen to use engines made by the same Chinese manufacturer.  One model referenced in forums is the Westinghouse 4500i
Westinghouse iGen4500
The Westinghouse iGen4500 is an Inverter generator.  Inverter models are designed to create clean and stable power and generally quieter operation, and the engineering allows the engine to vary its speed according to the power demands. Inverter generators are typically lighter and more fuel-efficient than fixed-speed generators.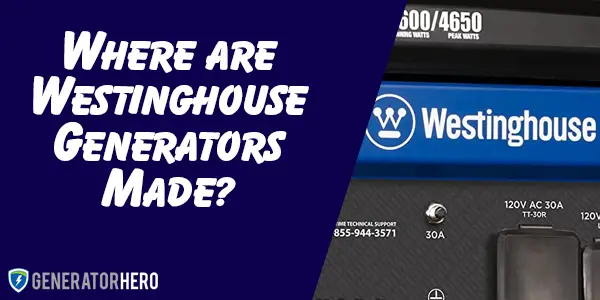 FAQ
Conclusion
If you are looking for a reliable portable generator for your home, business, or outdoor activity use, the Westinghouse brand has top reviews for reliability and service.