Make the most of your camping experiences by ensuring that you'll always have power for every adventure.  Whether boon-docking in primitive areas or knowing that you can "power up" during power outages, having the right generator can make your RV experience exceptional!
Outdoor activities have gained popularity for family adventure.  Over the past year sales in recreational products soared as people looked for ways to get out during the pandemic.  From tents to motorhomes, families turned to nature for entertainment and escape from their quarantine. Here's our top 3 best 30 amp RV generators:
Not wanting to leave the comforts of a home behind, many have opted to invest in generators to enhance their camping experience.  While most camping/recreational parks offer hook-ups for electricity, many areas in state or national parks are primitive (without utilities).  To have some power in these areas, generators offer the option to have the creature comforts to enhance the camping experience.
Here are three quiet 30-amp generators that provide a minimum of 3500-watts of power for your consideration:
Best 30 Amp RV Generator
[1] Generac 7127 iQ3500-3500-Watt Portable Inverter Generator
Generac has long been known for its powerful and reliant home generator systems.  It is no wonder that this product also rates high among users.  The iQ3500 portable inverter generator makes bringing power to endless activities a breeze.  It is durable and lightweight for tailgating parties to camping trips, the jobsite and beyond. Its design is specifically engineered for easy portability.
As a feature, the Generac 7127 30 Amp RV Generator integrates the intuitive Power Dial to start, run and stop functions into one simple-to-use dial.  It also hosts an Electric Start (battery included) capability, a feature for quicker startup. You have the option of two engine speeds, depending on your need, to significantly reduce noise and fuel consumption, or to maximize power response. 
| | |
| --- | --- |
| Brand | Generac |
| Wattage | 3500 watts |
| Item Dimensions LxWxH | 23.7 x 18 x 21.7 inches |
| Item Weight | 109.1 Pounds |
| Color | Orange/Black |
| Voltage | 120 Volts |
| Frequency | 60 Hz |
QUIET – with the inverter technology and design, provides ultra-quiet performance.
At work or play the durable steel enclosure, power and easy portability make this generator a given for jobsites or recreational activities
Featuring power-rush advanced technology for surge-power startups.
Digital display shows wattage meter, run time remaining display, generator status, hour meter and fuel level
Charge mobile devices including smartphones and tablets
Electric start with power dial start/run/stop – (battery included)
[2] Champion Power Equipment 100574 4000-Watt RV Ready Digital Hybrid Inverter Generator with Dual Fuel Technology
The Champion Power Equipment 4000-Watt Digital Hybrid Inverter Generator cut the noise level in half by integrating Quiet Technology digital components. The efficient mechanical design reduces weight by up to 20 percent making it a quiet, lightweight addition to your camping needs. The Digital Hybrid generator is smaller, quieter, and lighter.   
Designed to operate on gasoline or propane, you can easily switch fuels with a quick turn of the fuel selector dial. Using gasoline, the engine produces 4000 starting watts and 3500 running watts. This inverter has a 0. 6-quart oil capacity and a low oil shut-off sensor, and operates at 64 dBA from 23 feet, which is a bit louder than normal speech. The Quick Touch Panel offers fast access to controls, while Economy Mode monitors power consumption, and Cold Start Technology ensures a quick start in cold weather.
| | |
| --- | --- |
| Brand | Champion Power Equipment |
| Wattage | 4000 watts |
| Item Dimensions LxWxH | 20.5 x 18.3 x 18.9 inches |
| Item Weight | 82.2 Pounds |
| Color | Black and Yellow |
| Engine Displacement | 224 Cubic Centimeters |
50% quieter and 20% lighter, plus the Economy Mode feature saves fuel and extends engine life
Dual Fuel generator: the inverter operates on gasoline or propane
Quiet Technology and Extended Run Time
Parallel Ready with the purchase of a kit to connect to another generator for more power.
[3] WEN 56380i Super Quiet 3800-Watt Portable Inverter Generator with Fuel Shut-Off and Electric Start
The WEN 3,800-Watt inverter 30 amp rv Generator produces clean energy and is about as quiet as a window air conditioner or the average conversation. WEN makes some of the best quiet generators out there. This limits noise invasiveness while hunting, camping, tailgating, and restoring back-up power. The generator is equipped with fuel shutoff. This feature turns off the flow of fuel, allowing the generator to use up the remaining fuel from the carburetor before automatically shutting down. 
It is safe enough to run laptops, cellphones, monitors, tablets, and other vulnerable electronics. The lightweight design along with the built-in wheels and folding handle make for easy portability.  It has an easy-to-read digital fuel and load display, as well as an Eco-Mode switch for fuel efficiency. This feature allows the generator's engine to automatically adjust its fuel consumption as items are plugged into and unplugged from the panel.
Easily link up two WEN inverter generators using a Parallel Connection Kit (sold separately) to share wattage between multiple units. Low-oil and low-fuel automatic shutdown, indication lights, and overload protection safeguard the generator.
| | |
| --- | --- |
| Brand | WEN |
| Wattage | 3800 watts |
| Item Dimensions LxWxH | 23.2 x 18 x 20.1 inches |
| Item Weight | 99.2 Pounds |
| Color | Orange/Black |
| Engine Type | 4 Stroke |
EPA III and CARB Compliant
3800 surge watts and 3400 rated watts with a half-load runtime of up to 8.5 hours
Fuel shutoff maximizes the generator's lifespan by using up the remaining fuel in the carburetor before shutting down
Clean power to sensitive electronics such as smart phones, tablets, and laptops
Digital load and fuel display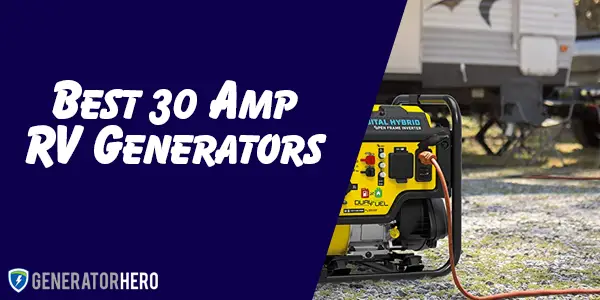 FAQ
Why choose a quiet-running generator for RV camping?
One thing to remember about portable generators – they are motorized and, therefore, make noise.  The best quiet generators do not make a noise higher than 80 decibels (about as loud as a dishwasher or blender), and can run your lights and fans, along with a few electrical appliances.
The quietest 30 amp rv generators are usually inverter-based. These generators can be used as a power backup to your home's electricity supply, or even for providing electricity when camping outdoors.
– Check the AC output
– Check the operational time
– Check if it is capable of tandem operation
Considering this is not only important for you and your family, but for your camping neighbors, as well.  Even when camping in primitive park sites, being mindful of invasive noise to the animal life in the area is important.
What runs on 30-amp service?
Unless you have a large Class A motorhome, your recreational vehicle most likely utilizes a 30-amp service.  This means that the energy needed to power your unit supplies 3,600 watts (30 amps multiplied by 120 volts).  Pull-behind and 5th-wheel RVs generally require 30-amp service, although units over 30-feet may require a 50-amp rv generator.  A generator can easily power lights and small appliances for tent campers, too. 
What will a 30-amp service run?
Typically, 30-amp electrical service in your RV supplies appliances and portable devices such as the air-conditioner, electric water heater, microwave, coffee maker, electric skillet, hair dryer, space heaters and a toaster.  Plugging into a 30-amp socket is not necessarily a question of can you run it, but how many things you run at the same time.
Generator power for 30-amp needs
Having power when you want or need it is important.  Consider power outages even when campground power is provided.  Therefore, having a generator for your camping needs is a wise investment. 
When there is no static power source for your 30-amp RV, you'll need the right size generator to supply energy to your essential equipment. 
For smaller RVs, you may consider buying a generator that supplies at least 3,000 watts. Remember, though, that if you run the air-conditioning unit and the microwave at the same time, you will be using nearly all its maximum watts of power. 
The maximum required wattage for a 30-amp RV is 3,600 watts.  To be sure you have enough power to run all your appliances, I'd suggest opting for a portable generator rated in the 3000-4000 watt range.
Your exact needs will depend on the number of appliances you tend to use at once.  Be sure to calculate the startup wattage and running wattage ratings for each of those appliances. 
What is an inverter generator?
Inverter generators use a type of alternator that results in reduced weight, size and power that is ultra-clean and capable of safely powering sensitive electronics and tools.  It is one that inverts electricity to provide cleaner, safer power.  It is more compact, quiet, and generally more energy efficient than a traditional generator.  They usually come with a higher price tag.
An inverter generator works by converting AC electric current into DC electric current and then inverting it back to AC to create a cleaner wave of electricity.  This wave of electricity provides a smoother flow of power to your accessories and is generally safer for sensitive equipment, such as laptops, phones, and computers.
A typical non-inverter generator produces what is called "dirty" power.  This is power with voltage spikes that can harm sensitive electronic equipment.  It has a high total harmonic distortion (THD), which represents the variance from the standard 60-herz frequency. This means that if you were to plug your computer into a regular open-frame generator, the power fluctuations could cause computer memory loss or operating errors.
An inverter generator "cleans" up that power by inverting the electrical wave in a way that allows for a consistent flow of electricity without the ripples and irregularities of dirty power. It has a clean THD of less than 6%.