As an affiliate we may earn from qualifying purchases
Before buying a generator the most important question is always "Will this provide the power I need to run my entire house?
In my experience, the next question is always "Will I need to get a standby whole home generator and have to do complicated electrical work?
The good news is you can power most things you'd need in an emergency through the use of a 12,000 watt portable generator.
These generators put out more power than most residences need, and can be located virtually anywhere and hooked up via "Smart Switch". 
Best 12,000 Watt Generators
[1] DuroMax XP12000EH Generator — 12,000w Dual Fuel (Gas or Propane Powered)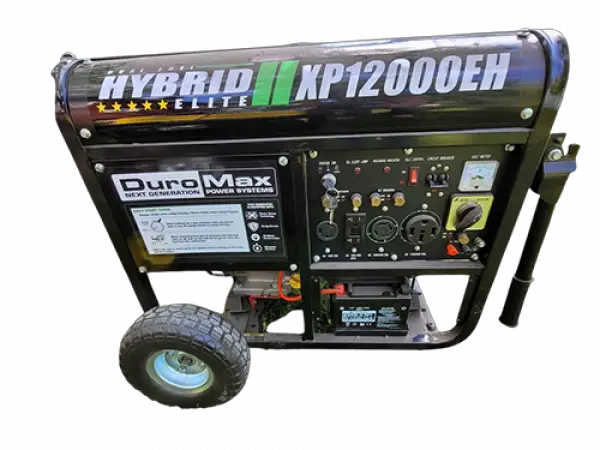 Key Features:
Dual Fuel – Gas or Propane 
Electric Start 
CO (Carbon Monoxide) Alert  
Transfer Switch/RV-Ready
50 State Approved CARB 
This Dual-Fuel hybrid from DuroMax offers complete whole-home protection, with the benefits of being readily portable and flexibly fueled by either gasoline or propane. See our post on exactly how much propane your generator will use.
DuroMax XP12000EH Power Output by Fuel Type
| Gasoline | Propane |
| --- | --- |
| Peak Watts/Starting Watts | Peak Watts/Starting Watts |
| 12,000 | 11,400 |
| Running Watts | Running Watts |
| 9,500 | 9,025 |
The powerful 457cc OHV DuroMax engine is a 4-stroke engine with 100% copper windings and is backed up by DuroMax's proprietary MX2 technology, which assures maximum power delivery to each 120V receptacle.  
This feature is controllable via the easy-to-read interface, where you can choose between running 120V and 240V outlets simultaneously or diverting all available power to the 120V receptacles. 
It's worth noting that this unit also includes a 240V Heavy Duty outlet with a 50A breaker, as is generally expected once crossing into the 12,000w category.
The frame and housing are all made fully from metal, which makes for a more durable yet slightly heavier product altogether.
Based on the reviews and forum discussions I discovered while researching the DuroMax XP12000EH, the most consistent complaints were related to noise, weight, and the ready availability of replacement parts.  
Because I have put a lot of thought into where my generator is located, noise isn't a dealbreaker for me, honestly. And while weight can make it interesting getting it in place, I've learned to move it empty and fuel it once it's in place.
The issue of replacement parts is admittedly more concerning, but it seems to be fairly isolated and related more to COVID-related shipping issues affecting everyone.
In short, this is one of the most powerful and flexible generators in its class, with a good reputation to back it up. It definitely makes my Top 3 list as "Best Bang for the Buck".
Rated Wattage: 12,000 watts
Running Wattage: 9,500 watts
Weight: 224 lbs.
Fuel Tank Capacity: 8.3 gallons = 31 liters
Estimated Runtime: ~15 hours @ 50% load w/ full tank of each fuel
Warranty:
3-Year Residential
1-Year Commercial
[2] Westinghouse WGen12000 Ultra Duty Portable Generator – 12000 Rated Watts & 15000 Peak Watts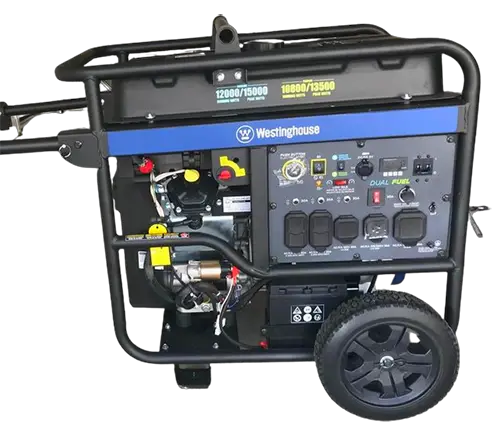 Key Features
Simply put, Westinghouse makes one of the best generators available to purchase in the United States — maybe anywhere in the world. As far as portable generators, they may very well be the best.
It's worth noting, also, that Westinghouse has a different way of rating their generators from the other manufacturers. Most generators are rated by their peak power output, not the amount of power they produce consistently under a load.
Westinghouse, contrarily, rates their products according to their running wattage — not their peak, which is much higher against any competitor.
Westinghouse WGen12000 Power Output 
Gasoline-Fueled
Peak Watts
15000
Running Watts
12000
This alone translates into any Westinghouse generator being a Heavyweight contender in a Featherweight competition.
This generator has the flex to power virtually anything your home can throw at it!
Refrigerator, air conditioning, lights, televisions, and even the kids' video games…it's all good!
And with an automatic low oil shutdown, onboard voltage regulation, and Smart Idle control all built-in, maintenance is less a chore and more of an inspection.
As far as the engine, let me put this into perspective as best I can — a 713cc V-Twin is more powerful than the motor pushing some motorcycles around!
The engine is sleeved with cast iron, prolonging its ability to run under constant loads, and all windings are 100% copper to ensure maximum power consistency and quality.
Topping off the Heavy-Duty ensemble, the sturdy metal frame is reinforced for lifting by job site equipment. At 352 lbs., however, you are going to want some kind of plan in place for where you're putting it and how you're getting it there.
Rated Wattage: 15,000 watts
Running Wattage: 12,000 watts
Weight: 352 lbs.
Fuel Tank Capacity: 10.5 gallons = 39.75 liters
Estimated Runtime: Up to 16 hours
Warranty:
3-Year Limited (Service, Labor, and Parts Coverage)
National Service Network
[3] Pulsar G12KBN Heavy Duty Portable Dual Fuel Generator – 9500 Rated Watts & 12000 Peak Watts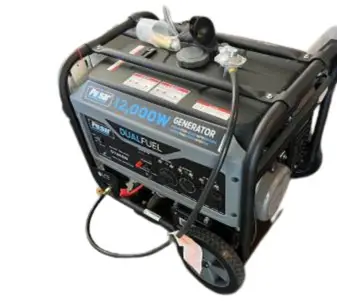 Key Features
9,500 Running watts
Electric Start w/ Recoil backup
Powerful 457cc 4-Stroke Engine 
50-State CARB Compliant
Ultra-lightweight design
Budget-friendly pricing
I've said it before, and I'll say it again — every single home should have a backup generator. 
Our society has become entirely dependent on electricity, from how we store our food to how we communicate with each other. 
In the event of natural disasters like hurricanes or tornadoes, electricity can be gone in the blink of an eye.
Most people's kneejerk response to why they don't have a whole-home generator is cost. While the investment isn't a trivial amount of money, manufacturers like Pulsar are showing us that it can be an affordable purchase.
Pulsar G12KBN Power Output by Fuel Type
| | |
| --- | --- |
| Gasoline | Propane |
| Peak Watts/Starting Watts | Peak Watts/Starting Watts |
| 12,000 | 10,800 |
| Running Watts | Running Watts |
| 9,500 | 8,550 |
And while the Pulsar isn't the only budget-friendly option out there, they have apparently paid attention to the mistakes of other affordable models and sought to "get the jump on them".
Take the push-button starter switch, for example. Key switches are a popular option for the lower-priced models, yet the inferior quality of the keys and the switches themselves have created issues.
The Pulsar G12KBN uses a simple rocker switch — simply click it once to "ON" and then push and hold until it starts. That simple. 
(And super easy to find a replacement, if necessary.)
The 457cc engine is dual-fueled, adding tremendously to this unit's value in times of uncertainty. We all know how the price of gasoline spikes during disasters, right before its availability plummets.
Propane gas is easy to store (it's the same stuff in that cylinder on your gas grill!), and can be purchased inexpensively in bulk or conveniently in smaller vessels.  
The Pulsar might not boast the full range of features or power outputs of more expensive models, but I think it still fits for a lot of people. 
Its lower entry-level price point enables more homeowners and even renters to become first-time generator owners, allowing them to decide for themselves how much the investment is worth overall.
And let's not forget that the smaller size and weight are important to a lot of people. Not everyone can move 300+ lbs. around, wheels or no wheels!
Ultimately, this model is perfect for anyone on the fence with their generator purchase. After it saves you from a single outage, I'm betting you'll consider every dollar well spent.
Rated Wattage: 12,000 watts
Running Wattage: 9,500 watts
Weight: 209 lbs.
Fuel Tank Capacity: 8 gallons = 30.28 liters
Estimated Runtime: Up to 12 hours
Warranty:
3-Year Residential
1-Year Commercial
Conclusion
Deciding on the right generator can be an overwhelming chore. But it doesn't have to be. How do I know what size generator I need? We can help you with that.
The truth is that most people don't spend any time thinking about generators.
They don't know how the professionals that work with them distinguish between them, and doing the research to find what you need can take way too much time, as a result. 
That's why I decided to start trying to make it a little easier to find the generator you need. After all, if every house should have a backup generator, simply figuring out which one meets your needs should never be an obstacle.
And whether you're here looking for the best of the best, bang for the buck, or the best possible deal, I've got you covered. 
For this article, I've carefully reviewed the available generators in the 12000w portable class and selected my Top 3. 
Each selection represents a different strength, which translates into meeting your particular needs. 
My first selection, the DuroMax XP12000EH, is a Dual-Fuel hybrid that represents the most bang-for-the-buck.
The second pick is the WGEN12000 Ultra Duty from Westinghouse, a well-respected name in portable generators, and my pick for most powerful and highest overall quality.
And finally, I selected the Pulsar G12KBN Heavy Duty Portable for the best budget-friendly generator in the 12000-watt category, as it offers dual-fuel flexibility at a very affordable entry-level price.
Whatever your budget, whatever your needs, you're sure to find a whole-home generator here that fits. 
Don't be caught unprepared the next time the grid goes down…
Thanks so much for stopping by, and if you still aren't quite sure be sure to check out some of our other detailed buyer's guides for more generator options.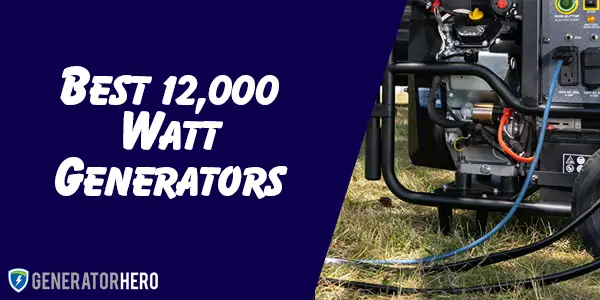 FAQ
Can a 12000-watt generator power a house?
Yes, perhaps excluding the most unusually energy-consumptive of homes, a 12,000-watt generator is considered a "whole-home" unit, and can power refrigerators, freezers, electric appliances, air conditioning/HVAC, electric heaters, lights, and most anything else that runs on electricity.
The 12,000-watt generator is also the first point you begin seeing 50A receptacles, which can make installation much more simple. A single 50A receptacle can also be attached to a junction, or pedestal, which is capable of powering several energy-intensive devices all at once.
How much would a 12000-watt generator cost?
Generator prices will vary, based on the brand name, included features, and rated wattage. For most 12,000 watt generators, you can expect an average price of around $1300-$1500 dollars. Higher quality and modern features can elevate prices, while minimal designs can reduce it. 
How many kilowatts is a 12000-watt generator?
A 12,000-watt generator is equivalent to a 12-kilowatt system. The kilowatt rating is often used to quickly determine the scope of protection a system offers a home or the overall utility of a generator's output capacity.
| | | |
| --- | --- | --- |
| Kilowatt Rating | System Description | What You Can Run |
| 5 kW | A basic system that can restore power to an isolated number of critical appliances | Refrigerator/freezer, HVAC ventilation fan, (1) sump pump and lights (# depending on draw) |
| 6.5 kW | A small system to keep the critical appliances operating while allowing a few extras. | All critical appliances above, plus a television, gaming console, computer, etc. |
| 8 kW | An entry-level home backup system for outages lasting more than 3+ days. | Everything listed above, plus a home office, wi-fi- router, etc.. |
| 10 kW | An emergency backup power system providing comfort and security in long-term outage scenarios. | Whole-home emergency protection, with quality generators providing a little extra power. |
| 15 kW | A powerful system with enough surplus energy to run a small home. | Critical appliances, home office, kitchen, and laundry room are functional. HVAC for ventilation, limited air conditioning. |
| 25 kW | A solution for commercial entities that need complete outage protection or very large homes that desire complete climate control. | All of the above plus complete function of air conditioning systems and any other extraneous appliances. |
| 30 kW and up | A system large enough to allow large homes, mid-sized businesses, and other "big" entities to go on like there is no outage. | Everything. |