When a hurricane strikes, you need to have power. If your home loses power, you may not be able to keep food cool or preserve medications, and you might not be able to cook or keep warm. Generators can help ensure your family has power during an emergency
Hurricane season has a weather calendar that runs from June through about mid-November.  The most active months are typically between mid-May and the end of November.  Hurricanes begin as tropical storms that gain strength as they move toward any U.S. coast or territory in the Atlantic or Pacific oceans. 
A hurricane can target any area bordering the coastlines of the Atlantic, Pacific, or Gulf Coast.  It will only be a matter of time before one of these ferocious storms turns your direction, so like buying insurance, having a generator is a good investment.  High winds and rain will also impact inland areas, causing power outages that could last several days. Refer to this Hurricane Electrical Safety guide for more details.
3 Best 7500-watt Portable Generators for Hurricane Readiness
There are many different types of generators available on the market that are great for hurricane readiness. Before you purchase a generator, it's important to understand how they work and what features they offer. Here are a few things to consider when shopping for the best generator for hurricane readiness:
[1] Westinghouse WGen7500 Portable Generator with Remote Electric Start 7500 Rated Watts & 9500 Peak Watts, Gas Powered, CARB Compliant, Transfer Switch Ready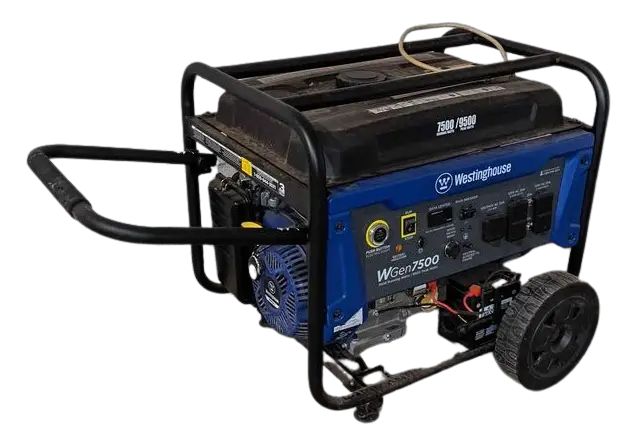 This CARB Compliant generator runs on gasoline and is also transfer switch ready.  At 192 pounds, it comes with a remote start key fob; you won't have to leave the house to get it running. 
The 6.6-gallon fuel tank gives you 11 hours of operation before refueling.
The engine is a 420cc 4-stroke Westinghouse OHV.  It features automatic low oil shutdown and operates at a low-noise level of 72 dba (about the same as a normal conversation).
It comes with a 12v battery charger, oil, oil funnel, a tool kit, and an owner's manual.
[2] Champion Power Equipment 100891 9375/7500-Watt Dual Fuel Portable Generator, Electric Start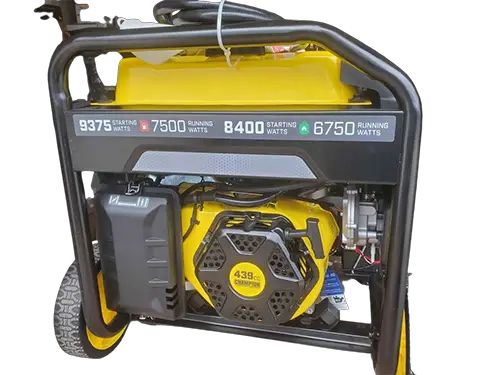 This gasoline or propane-powered generator weighs 207 pounds.  The 7.7-gallon gasoline fuel tank will run up to 10 hours or 5.5 hours on propane.
The Champion engine produces 439cc of power and has an electric starter.
It comes with a propane hose, oil, and oil funnel.
[3] Powermate Gas Generator 7500 Watt 49 ST, Powered by Generac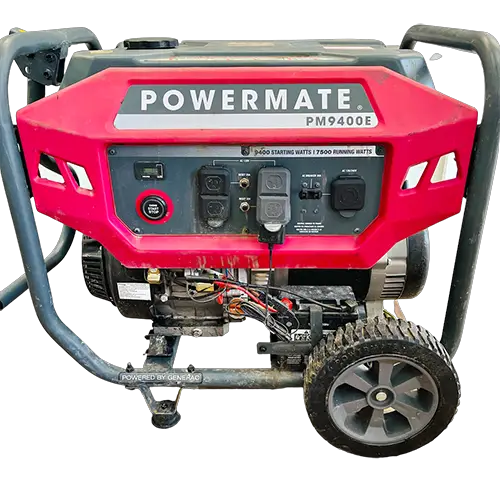 This Generac gas generator weighs 167 pounds and offers up to 14-hours of run time (at 25% load) on its 8-gallon tank.
The Generac engine provides 420cc power and offers a recoil start with power dial settings (off/run/cold start).
It features a low-oil shut-off.
Prepare in Advance
While it is best to prepare in advance of hurricane season, you can still prepare several days before a storm if your online or local equipment dealer has generators in stock. Remember that you will not be the only one getting ready.
Think of long-term use rather than a one-time safety precaution as you consider which type of generator will best fit your needs.  Your choice and decision should keep your family, home, and business powered for years to come.  It's critical to take proper generator safety measures during operation.
Two options are available for choosing a backup generator:
Whole house generator, or
Portable generator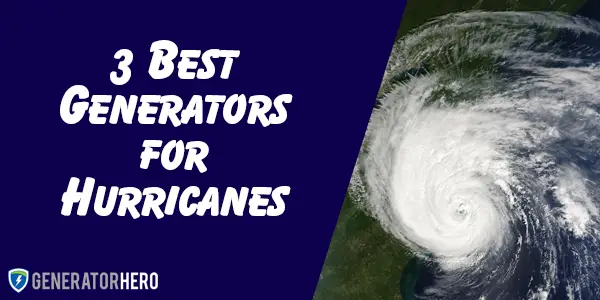 Whole (Standby) House Generator
A permanent installation of standby or whole house generator operates automatically when standard power fails.  This generator is powered directly by natural gas or liquid propane and can run for long periods.  The needs of your entire home will determine the wattage.
An automatic transfer switch is in the generator.  When power fails, it senses the loss, signals the generator to start, and sends electricity to the home or business.   It happens within several seconds to maintain the electrical current throughout your home.
There are several brands, including Generac, Kohler, Cummins, and Briggs and Stratton.
Portable Generator
Portable generators are just that, mobile.  They come in various wattage sizes to meet needs, from powering lights to providing enough electricity to run air conditioners, refrigerators/freezers, water pumps, small appliances, etc.  These generators generally run on gasoline, diesel, liquid propane, and dual fuel (gas or propane).  Portable tri-fuel generators also offer a natural gas fuel option (gas/LP/natural gas). We've written a great guide explaining exactly how much gasoline a generator will use.
Unless you have installed a transfer switch outside your home, you will need to run and plug extension cords to the appliances you want to run.
If operating either gasoline or portable propane generators, you will want to have enough fuel on hand to keep them running until standard power returns.
Many brands are available online or at your local equipment outlet.
Rain and Your Generator
The one thing that can destroy your generator is water. Hurricanes bring rain and flooding. It is essential to keep it above water and under shelter if at all possible.
Remember, water conducts electricity, and there is a chance of electrocution.  In addition, water can seep into fuel lines and cause contamination or decay connections. You should not get your generator wet.
Generator Safety Measures
To avoid carbon monoxide poisoning, operate portable generators outdoors and at least 20 feet away from windows and doors.
Recommended Generator Wattage
A minimum of a 4000-watt generator is needed if you only need to power a few appliances and minimal lights (refrigerator, stove, freezer).   Operating an air-conditioner will require more watts, and other devices may need to be off.  You can use this guide to determine the electrical load your home may need in an emergency.
If your power needs exceed the supply of a 4000-watt portable generator, you may want to consider investing in one that will produce more watts. Read our guide for info on what a 7500 watt generator will run.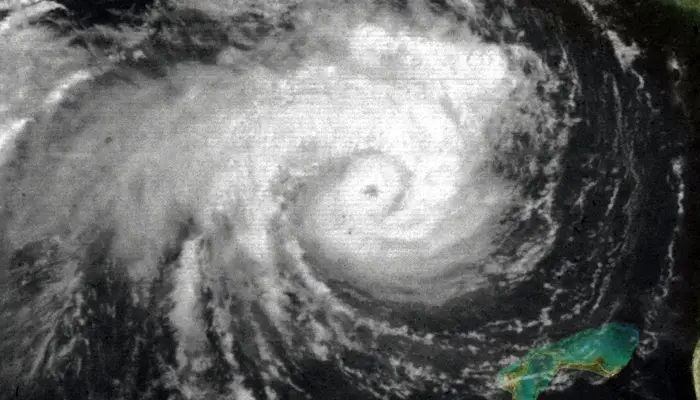 FAQ
What size generator do I need for a hurricane?
The size of your generator will depend on your energy needs.  Minimally you should have a generator to power your refrigerator, freezer, and a/c or heating units.  We recommend a 7500-watt or higher generator.
What is the most powerful generator for a house?
Whole house (standby) generators can be 15000-watts or more. If regular use of your home is expected (all appliances, lights, HVAC, water pumps, etc.), you will need a generator with the power to meet your usage.
Can you use a generator during a hurricane?
Yes, you can use a generator during a hurricane. However, you must not ever run a generator inside to avoid carbon monoxide poisoning. A generator must operate at least 20-feet outdoors from windows and doors for the same reason. Protect your generator from rain and high water, so having a shelter is recommended.
Will a 6500-watt generator run central air?
Window air conditioners vary by size. Generally speaking, HVAC systems are more energy-efficient but can draw between 3000 and 3500-watts an hour. A large window a/c can use 1440-watts, and smaller units will consume 500 to 900 watts. Each time the a/c kicks on, the peak draw can be more, which means other heavy draw appliances may not run.
Conclusion
Plan for any storm-related power outages as waiting until the storm is near is too late.  Know in advance how much power you will need for minimal comfort and select a generator that will handle those needs.  Have a supply of fuel and oil for your generator that will last a few days, as the power to gas stations may also be out.