Camping is definitely different than it used to be. Many of us have tossed the too-small tents and propane lanterns to recreate in comfort: give us beds, give us refrigeration, and let there be light bulbs!
A 4000-watt generator will keep your RV running on all cylinders and can even help around the house should you find yourself in a power outage. You won't be able to carry a load as high as, say, a 10,000-watt generator, but you'll be video gaming and nuking your food in a pinch. You'll even have the ability to simultaneously run your AC at this wattage.
So check it out, we put together this list of the top 3 in this wattage. Read up on the comparisons below before you buy.
Best 4000 Watt Generators
[1] Champion Power Equipment 100302 DH Series Hybrid Inverter, 4000-Watt
Battery cables and a USB adapter are included in the box and it is ready to power up your RVwith a 120V 30A RV, plus two 120V 20A household outlets with clean power (less than 3% THD) and 12V DC outlet.
Weight: At 81.6 lbs, it is 20% lighter than generators in the 3500 series.
Warranty:  Your purchase comes with Champion Support, which means that for the life of the generator you'll have the support of the experts for any technical problems you might run across. If that's not enough, you're going to have a 3-year limited warranty as a bonus.
Portability: The open-frame build makes carrying as easy as it gets, but you can also buy a wheel kit to add to the model's mobility.
[2] WEN GN4500 4500-Watt 212cc Transfer Switch and RV-Ready Portable Generator
This model is a real find. It's an old-school generator, not a hybrid, so it's a little heavier, a little louder, but mighty powerful. You're going to get a larger surge capacity with 4500 starting watts and 3600 running watt comes in just above our 4000-watt Champion.
Customers seem genuinely pleased with the performance and lifespan of the WEN generators.
Fuel Tank / Run Time: With a full tank, which holds 4 gallons of fuel, you'll have up to 13 hours running at half load.
Sound Level: The actual dBA is not provided on the listing, but a quick perusal of reviews that mention the words "noise level," indicate that it's quieter than you would expect for a straight generator. It will be louder than an inverter, so if that's one of your sticking points, you might go the hybrid route.
Another option is to build a generator quiet box to help lessen the noise.
Features: The WEN GN4500 displays voltage, frequency, session runtime, and total runtime on an easy-to-read digital data meter, which takes the guesswork out of important things like oil change scheduling and overall performance.
The panel includes four standard 120V 20A household duplex outlets (5-20R), one 120V 30A RV outlet (TT-30R), and one 120V three-prong transfer-switch-ready 30A outlet (L5-30R). Seriously, everything you could need especially for an RV generator.
Features an EPAIII and CARB compliant 212cc 4-stroke engine, an automatic voltage regulator, a spark arrestor, and a handy low-oil shutdown.
Weight: 107.5 pounds. She's heavy, but she's mighty.
Warranty: Two-Year
Portability: Since the price on this one is low and the weight is high, I would consider purchasing the wheel and handle kit if you're planning on taking it tailgating or camping.
[3] Westinghouse Outdoor Power Equipment WGen3600DF Generator
Last but not least, the Westinghouse WGen3600DF is a worthy contender for the top 3 in the 4000 watt category. It has a 4650 peak wattage and a reliable 3600 running wattage. This is another one that is on the heavy side, but will power anything you need, be it an RV or a whole house.
The Dual Fuel feature is becoming increasingly popular due to its versatility, and you'll be able to buy the lighter, smaller Champion model above with this bonus feature as well. Let's get into the specs.
Fuel Tank / Run Time: This bad boy has a 4 gallon gas fuel tank capacity, complete with a fuel gauge. If you've never had a generator without one, you'll definitely appreciate this small but welcomed added bonus.
At 50% load you can expect around 13.5 hours of run time. If that's not enough time, just top her off and she'll keep whirring away.
Sound Level: While the actual noise rating is not listed here, it will be a lot louder than an inverter or hybrid inverter generator. Reviews tell me that it's what you're going to expect for a generator…not quiet, but quieter than a lawnmower.
Features: My favorite feature is always the remote electric start. When you want to have movie night in your RV and need to send someone outside…in the dark…to shut it off, you can bet you're going to have to do it yourself every time. You don't even need to step outside with this feature, as it comes with a remote fob that works within 260 ft
This generator is capable of easily switching between gasoline and propane, even while it's running. Whether you run one or the other, or find yourself in a lurch, this is a key feature you're going to miss with other generators.
Weight: This one weighs in at 109 pounds, and we agree, that's a bit heavy–again, if this is one of your sticking points, it's best to look into the lighter inverters. They do make up for the weight by including a wheel kit. Thanks, W!
Warranty: This info is not provided
Portability: Again, the wheel and handle kit Westinghouse includes offsets the inconvenience of the weight. If you do need to lift it into your pickup, we'd advise grabbing a buddy.
These three generators are a pretty good representation of variable benefits certain generators will have over others across the market. It comes down to knowing what you're going to use it for. While a 4000-watt generator will always have you covered, what are those bonus, "luxury" features you really want?
We've added some frequently-asked questions people often ask when shopping around for a generator. Check them out below.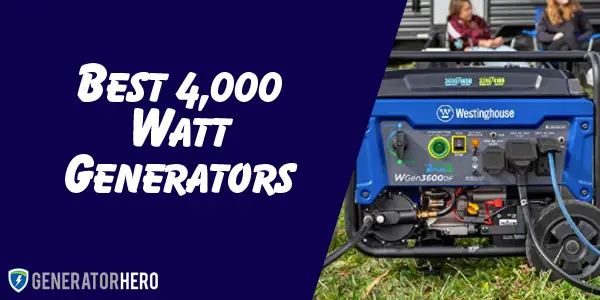 FAQ
Can a 4000 watt generator run a house?
The answer here is yes and no. If you want to power your home, top to bottom, with no limitations, you're going to want a bigger unit. If you pick and choose what you're running, you're going to be just fine.
For instance, if we have a power outage and hook up my 4000 watt surge / 3500 running inverter generator, we can steadily power a refrigerator/freezer, lights, TV, and charge electronics–no problem. Adding a microwave into that will bog it down a little, but it can do it. Throw in a heater or an AC unit and you'll likely need to unplug a couple things, at least while you cool the place down.
It's sort of a power rationing system, right? I can also decide that the most important thing I want to run is my AC and depending on the BTUs I might be able to run the lights and TV along with it–but to also nuke my leftovers, I'd better turn the AC off for a few minutes.
So again, yes and no. It will not be as easy to run an entire house worth of power with a generator of this size, but you can definitely run the necessities in a pinch.
What can a 4000 watt generator handle?
A 4000 watt generator, like we said, can power a lot of appliances. Once you get up there, however, you're going to have to start picking and choosing. See above to see what we routinely run and how we power the more demanding things like microwaves, AC units, and coffee pots.
Who makes the best 4000 watt generator?
Again, this is subjective. Honda has a great reputation for making a very reliable and long-lasting generator and inverter, but their price point definitely reflects that. The generators I've listed here, however, are not far behind as far as reliability and longevity–and their prices are nothing to bat an eye at.
If you need lightweight and portable, definitely go with the Champion model. It will also be the most quiet for things like camping with others. While the Westinghouse and WEN models are heavier, they also have higher running watts and can power more appliances. Finally, for those less inclined to love a pull-cord start, the winner here is far and away Westinghouse, which has that coveted remote start. If you lose the fob all you have to do is press a button.