Like it or not, modern life has seen us become increasingly dependent on electricity. 
And anyone that's ever been through a long-term power outage knows precisely how valuable a strong generator is.
 The word "strong" can be a subjective one, however, and strengths can lie in different areas.
Generators in the 10,000-watt category are generally all strong enough to provide "whole-home" power. This includes a refrigerator/freezer, HVAC, and lights, with power left over to charge battery banks or run sump pumps.
Another great feature of the 10K-watt generators is their portability. 
While some models are built from lighter designs, or even hold different amounts of fuel, rugged pneumatic tires and leveraged handles make these whole-home generators far more portable than other designs.
For this article, we've carefully reviewed the available generators in this class and selected our Top 3. 
Each selection represents a different strength, which translates into meeting your particular needs. 
[1] DuroMax – XP10000HX – Dual-Fuel Portable Generator
Key Features:
Dual Fuel – Gas or Propane 
Electric Start 
CO (Carbon Monoxide) Alert  
Transfer Switch/RV-Ready
50 State Approved CARB 
The HX model features a brand-new front-facing control console, complete with a digital multimeter, push-to-start button, and a simple fuel interface that easily lets you change your fuel type with the flip of a switch! 
The digital multimeter displays the current voltage, frequency in hertz, the total hours the engine has run, and total hours until the next maintenance.
The DuroMax generator's push-button start is also it's stop-button – meaning once it's installed, getting the power going is literally as easy as pushing a button!
This generator is dual fuel, meaning it can run on either gasoline or propane, giving you the flexibility of fuel choice to match the resources available to you. Gasoline is poured into a fuel tank, while propane is generally delivered via a cylinder like those used on a gas grill. If you want to go propane, we've written a helpful post explaining how much propane a generator uses, broken down by generator sizes.
DuroMax XP10000HX Power Output by Fuel Type
| | |
| --- | --- |
| Gasoline | Propane |
| Peak Watts | Peak Watts |
| 10,000 | 9500 |
| Running Watts | Running Watts |
| 8,000 | 7600 |
This model also comes equipped with DuroMax's "CO Alert Technology," which will automatically shut down the generator the moment an unsafe level of carbon monoxide is detected by its onboard sensors.
The powerful 439cc OHV DuroMax engine is a true workhorse, and features windings made from genuine copper to maximize durability and efficiency.  
The power receptacle panel includes four 120V GFCI outlets, which can be used with extension cords to run low-power household items like lights. There is also one 120V 30AMP outlet, one 120/240V 30AMP twist-lock outlet, and a heavy-duty 120/240V 50AMP outlet, which translates into this generator being transfer-switch ready!
Rated Wattage: 10,000 watts
Running Wattage: 8,000 watts
Weight: 216 lbs.
Fuel Tank Capacity: 8.3 gallons = 31 liters
Estimated Runtime: ~10 hours @ 50% load
Warranty:
3-Year Residential
1-Year Commercial
[2] Westinghouse – WGen9500DF Dual-Fuel Portable Generator
Key Features
9500 Rated (gas) 
12500 Peak Watts (gas)
Dual Fuel – Gas or Propane
Push-Button Electric Start w/ Remote Start
ST Transfer Switch Ready 
50-State CARB Compliant
It's not really a secret that companies use psychology when they promote the products they want us to buy. 
It's pretty refreshing, though, when you see a company like Westinghouse use those kinds of marketing "tricks" to actually provide more bang-for-the-buck!
You see, generators are often judged by two metrics – their rated wattage and their running wattage. 
Most manufacturers will rate their products by the peak wattage, with their running wattage actually being a couple hundred watts lower. It isn't much, so we dismiss it. 
Kind of like the way they price gas; we ignore the 9/10ths of a cent that makes the real price of every gallon a cent higher than we think. America loves this trick, as you've surely seen with products priced $9.99 instead of 10 bucks even.
Westinghouse, however, has flipped the script. They rated a 12,500 watt generator (or what would normally be one!) as a 9500 watt generator, which is actually the running wattage!
Westinghouse WGen9500DF Power Output by Fuel Type
| | |
| --- | --- |
| Gasoline | Propane |
| Peak Watts | Peak Watts |
| 12,500 | 11,200 |
| Running Watts | Running Watts |
| 9,500 | 8,500 |
We're going to cover the features, of course, but we feel like the writing's on the wall with this one.
First, this thing's a heavyweight in disguise, cranking out 9500 Running Watts and 12500 Peak Watts (Gasoline); 8500 Running Watts and 11,200 Peak Watts on Propane!
You'll be hard-pressed to find similar numbers from any competitor in the 10,000-watt class.
Starting is a breeze, thanks to the convenient push-button starter control located on the high-quality front-facing interface. And thanks to the included remote start fob, you won't even have to go outside to get running!
The electric starter is backed up by a manual recoil pull-start, allowing you to get the 457cc 4-Stroke engine going in the event of a depleted battery. 
Once running, the 6.6 gallon fuel tank (which includes a fuel gauge) provides up to 12 hours of run time, depending on the load.
What can you load? Glad you asked.
The interface features: 
(2) GFCI 120V 5–20R Standard Household Receptacle, 
(1) Transfer Switch Ready 120V L14-30R 
(1) RV Ready 120/240V 14–50R
*All Outlets Have Rubber Covers for Extra Protection
It's important to point out the plug-and-play integration of this model, as it greatly simplifies using the whole-home generator.
You'll notice a special port on this model that says "Smart Switch Ready". This is for the ST Switch, also manufactured by Westinghouse, to plug into. This is the transfer switch that senses loss of power and automatically gets the ball rolling. 
Rated Wattage: 9,500 watts
Running Wattage: 12,500 watts
Weight: 220 lbs.
Fuel Tank Capacity: 6.6 gallons = 25 liters
Estimated Runtime: Up to 12 hours
Warranty:
3-Year Limited (Service, Labor, and Parts Coverage)
National Service Network
[3] Green-Power America – GPG10000EW Pro Series – Recoil & Electric-Start Generator
Key Features
7,500 Running watts
Electric Start w/ Recoil backup
Powerful 479cc 18HP 4-Stroke Engine 
50-State CARB Compliant
Ultra-lightweight design
Truth be told, every single homeowner should have a backup generator that is ready to connect to their home and strong enough to run everything they need to run.
This holds twice as true if we're talking about a family.
So why doesn't every home have such a generator installed and ready to go?
Your immediate response might be "cost", but we don't think so. The cost of a reliable whole-home generator is far outweighed by its benefits, and is generally a manageable amount of money for most homeowners and renters.
No, it seems to be more a problem of exposure – the people who install generators in their homes are often those whose parents did so, or someone else they respected when learning how to maintain their own home.
Still, anyone that has been in a house with a generator during an outage has come to appreciate the value of having one ready to go.
And costs matter, as not everyone has the same resources to work with. Nobody should be excluded from having whole-home generator protection, however.
The Green-Power America GPG10000EW Pro Series model featured here illustrates that need in the market, and represents one of the most affordable options available in its class.
What can a 10,000 watt generator run? A 10,000-watt generator is designed for whole-home backup, emergency outage protection, and occasional recreational use, such as providing power for outdoor events. 
The EW Pro Series is rated at 10K-watts and provides a consistent 7,500 running watts. 
The 6.6 gallon fuel tank lets the generator run for up to 9 hours at 50% load on a full tank.
The front-facing control panel is more minimal than other models in the class, which makes it seem like this is one area where the manufacturers tried to lower costs.
The receptacle dock offers 7 outlets in all, every one of them covered by a weather-proof protector:
(4) 120-volt AC outlets 
(1) 120-volt twist lock AC outlet 
(1) 120/240-v twist lock AC outlet 
(1) 12-Volt/ 8.3A DC outlet
Starting is accomplished via either a manual recoil pull-start or an electric start, which is powered by a 12V lithium-ion battery (included). 
The electric start of this unit is related to the only negative reviews that we found to be justified and from actual buyers of the product. Apparently, the key-switch ignition used for the electric starter switch caused a few folks some issue – so if you're uncomfortable with potentially replacing a key-switch, you might consider one of the other options above with push-button starters.
The power comes via a 420cc, 15 Horse Power, OHV (Overhead-Valve) engine, with this model running exclusively on gasoline. Green Power America does manufacture a Dual-Fuel model, but only the 12,000-watt version was available at the time of this writing.
Ultimately, we understand that it requires cutting costs in manufacturing to provide a product at a price point that undercuts competition. 
That can be a gamble, of course, but it's one that we think Green Power America is getting itself sorted. They are manufacturing out of China, but are building up their presence in the US to help optimize their Customer Service.
If you're looking for an affordable option, this model seems to have it cornered.
Rated Wattage: 10,000 watts
Running Wattage: 7,500 watts
Weight: 179.6 lbs.
Fuel Tank Capacity: 6.6 gallons = 25 liters
Estimated Runtime: ~11 hours @ 50% load
Warranty:
3-Year Residential
1-Year Commercial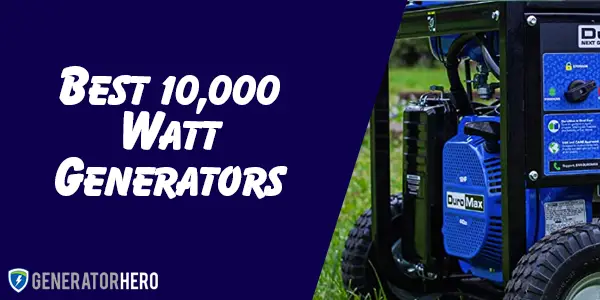 FAQ
Can a 10000 watt generator power a house?
Yes, generally speaking, a 10000-watt generator produces enough power to run all "critical" household items. This can vary, but generally refers to a refrigerator and/or freezer, HVAC & climate control, basement sump pumps, and lights. A quality 10,000-watt generator can run all of these devices simultaneously.
How much would a 10000 watt generator cost?
Generator prices will vary, based on the brand-name, included features, and rated wattage. For most 10,000 watt generators, you can expect an average price of around $1000 dollars. Higher quality and modern features can elevate prices, while minimal designs can reduce it.
How many kilowatts is a 10000 watt generator?
A 10,000-watt generator is the equivalent to a 10 kilowatt system. The kilowatt rating is often used to quickly determine the scope of protection a system offers a home, or the overall utility of a generator's output capacity.
| | | |
| --- | --- | --- |
| Kilowatt Rating | System Description | What You Can Run |
| 5 kW | A basic system that can restore power to an isolated number of critical appliances | Refrigerator/freezer, HVAC ventilation fan, (1) sump pump and lights (# depending on draw) |
| 6.5 kW | A small system to keep the critical appliances operating while allowing a few extras. | All critical appliances above, plus a television, gaming console, computer, etc. |
| 8 kW | An entry-level home backup system for outages lasting more than 3+ days. | Everything listed above, plus a home office, wi-fi- router, etc.. |
| 10 kW | An emergency backup power system providing comfort and security in long-term outage scenarios. | Whole-home emergency protection, with quality generators providing a little extra power. |
| 15 kW | A powerful system with enough surplus energy to run a small home. | Critical appliances, home office, kitchen, and laundry room are functional. HVAC for ventilation, limited air conditioning. |
| 25 kW | A solution for commercial entities that need complete outage protection or very large homes that desire complete climate control. | All of the above plus complete function of air conditioning systems and any other extraneous appliances. |
| 30 kW and up | A system large enough to allow large homes, mid-sized businesses, and other "big" entities to go on like there is no outage. | Everything. |