Bad weather will happen and cause disruptions to your electrical service.  Your wise investment in a portable generator and shelter will prove priceless as you and your family stay comfortable during power outages to your home or business.
Why do I need a portable generator shelter, you ask?  Well, as we have shared in other articles, water is not a friend to your portable generator.  Can generator's get wet? Most generator manufacturers highly recommend protecting your portable generator from rain during operation, as well as in storage.
It's also a good way to avoid a stolen generator due to the fact that you can secure your shelter properly with strong locks that will deter would-be thieves.
It can damage and rust the components and possibly allow moisture into the fuel line.   In addition to the generator's regular care and maintenance, a generator shelter will protect your investment.
As important as having a garage or carport to protect your vehicle, having a portable generator shelter protects your generator from the effects of snow, sleet, hail, ice, rain, wind, and sun. 
From DIY projects to ready-made, generator shelters can give you peace of mind that you'll have power when you need it.
There are simple portable generator tent shelters that can be secured over the generator.  These tent-styles take about 10-minutes to set up and secure around your generator. 
While there a couple that are rated to withstand up to 18-inches of snow, most are designed to withstand moderate weather.  If you don't expect a hurricane or tornado to pass through your area, the portable generator shelter tent may be an option.
Buying a Portable Generator Shelter
Pricing for portable generator shelter tents average between $150 to $300, depending on the size and style.
Here are two types of portable generator tents:
If you choose to purchase a portable generator shelter design like a shed, there are a few considerations. 
Size.  Make sure the interior is roomy enough for your generator to fit.  Give yourself room to refuel, perform maintenance, and easily get to the cords and exhaust.
Ventilation.  Your shed must have proper venting to allow both heat and exhaust to escape.  Overheating of your portable generator can cause it to shut down, as well as other mechanical issues.
Louvered vents help keep weather, insects, and rodents out, while providing the air circulation needed to keep the generator cooler.
It is recommended to use a fan to help pull hot air from inside the shelter.  Some may use an attic exhaust fan, but if building your own shelter, you may opt for a box fan or similar.
Placement.  If your shelter is to be placed permanently, consider a base to set it on.  This can either be wood or concrete.   It will lift the shed a few inches above the ground to prevent moisture from entering during heavy rains or snow melt.
A recommendation by most generator manufacturers is to place your portable generator 10 to 20 feet from your home or business.
Portability.  If you will be moving your portable generator shelter around your property (using a tractor or forklift), consider a palette-style bottom to make the moves easier.
Make sure the power cable connecting your portable generator to your home or business is in good condition and long enough to reach your transfer switch power receptacle easily.  This should only be used when operating your portable generator. Along with your generator, it's important to keep your extension cord protected from rain and other elements.
Purchased shed styles may be constructed of plastic, wood, or steel.  If plastic or wood, be sure to reinforce the area where the portable generator exhaust will exit.  This gets very hot and can melt plastic or ignite surrounding wood.  Installing a heat and flame-resistant product to surround the exhaust port is recommended.
A purchased shelter may look like this:
An additional benefit of a portable generator shelter is noise reduction.  The structure surrounding the generator can reduce the decibels produced by approximately 10-15, thereby helping to avoid complaints from neighbors- this is referred to as a generator quiet box.
If your generator is already rated as quiet or low noise, this can reduce noise levels to no more than normal conversation.
Purchased portable generator sheds can range on average from $300 to over $1000, depending on construction materials and size.
There are online ideas to build your own portable generator shelter, as well.  Popular DIY sites, such as Pinterest and YouTube, offer options to suit your budget and needs. 
Generator Shed Ideas: Building a DIY Generator Enclosure
As stated in the above video, installing a carbon monoxide monitor in your portable generator shelter will alert you if the temperature inside rises to dangerous levels.  This can occur if the exhaust fan fails and air stops circulating.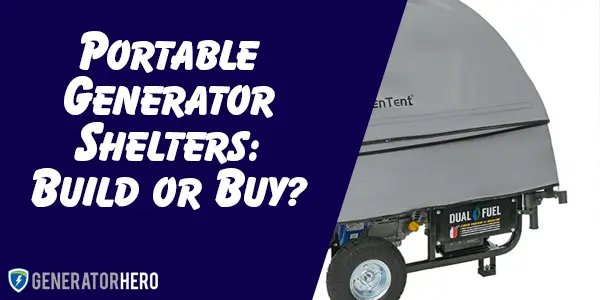 FAQ
Why do I need a portable generator shelter?
A portable generator shelter protects the generator from damage by weather and dust or debris.  Most generator manufacturers recommend protecting your generator from rain or other storm-related events.  Water can damage the generator's component parts or seep into fuel or oil lines, causing damage to the engine.
 Water, as a conductor of electricity, can also cause electrocution if you touch the generator during operation.
A shelter can also help reduce the noise of the generator, which can make both you and your neighbors happy.
Is a portable generator shelter expensive?
Depending on the type and size of the portable generator shelter, the purchase price can range from $150 to over $1,000.  Tent-style shelters range between $150 and $300, while shed-style shelters can range from $300 to over $1,000.
If you choose to do a DIY build, the price will be dependent on the materials you need to purchase.
Can I build my own portable generator shelter?
There are many DIY plans and options for building your own portable generator shelter.  Online DIY websites like Pinterest and YouTube offer guidance for creating a shelter to fit your budget and needs.
Can I move my portable generator shelter?
The tent-style portable generator shelter moves with your generator easily.  It takes about 10-minutes to set up and secure in place.
The shed-style portable generator shelter will require a tractor or forklift to move. Most are secured to a permanent base or anchored to the ground.
Will a portable generator shelter reduce noise?
Depending on the type of portable generator shelter you use, the noise level can be reduced.  The tent-style covers the top and partial sides of the generator, so reduction in noise levels may not be reduced by more than a few decibels, if any.
Shed-style portable generator shelters can reduce the noise levels by as much as 10-15 decibels.