Firman Power Equipment is a manufacturer of portable generators based in Peoria, Arizona. The company was founded in 1999 but was formally established in 2001 and has been producing a variety of generators and accessories in the years since.
Firman generators are a division of Sumec Machinery, which was founded in 1978 and is headquartered in Nanjing, China. The Firman brand was created to offer North American consumers a high-quality, durable generator at an affordable price. Firman generators are powered by gas or propane and feature a variety of power options to meet the needs of any customer.
Whether you need a generator for emergency home backup power or for powering your RV or camping equipment, Firman has a model that will suit your needs. And with their commitment to customer satisfaction, you can be sure that you're getting a generator from a company that stands behind its products.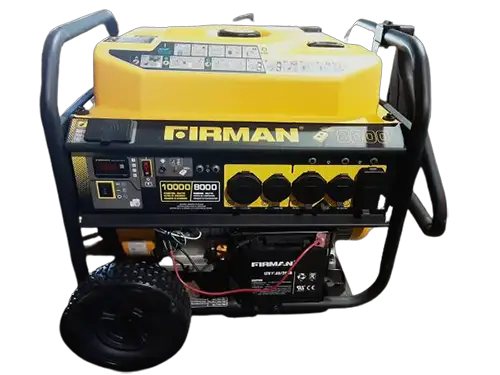 About the SUMEC Group Inc.
The SUMEC Group Inc, who make Firman generators, are a Fortune 500 company and was founded in 1978. SUMEC is prominent in the industrial and mechanical industry in China. Firman is now registered in more than 92 countries worldwide. This makes Firman a relatively new brand compared to some of its competitors – e.g., Generac, Kohler, Ford, Hyundai, etc. – that were founded much earlier.
But being associated with the SUMEC Group Inc. gives Firman some advantages, such as experience in longevity and an expansive customer base. As an important member of SINOMACH, i.e. (China National Machinery Industry Corporation), Firman also has access to national resources and support.
Though Firman may be new when compared to other brands on the market, it still has considerable experience and advantages backing it up.
Where are Firman Generators Made?
Engineered in the US: As one of the world's largest manufacturers of portable generators, they pride themselves on the unparalleled quality of our products. Their generators are engineered in the US and provide longer run times and larger fuel tanks to keep you going. So if you believe in supporting US-based companies, Firman might be the right option for you.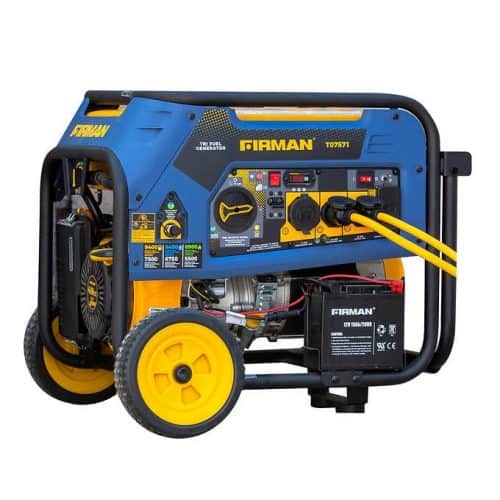 Partnership Between Firman and Kohler
When you hear of the brand Kohler, you may think of them having their own generators, but they also have a partnership with Firman that allows them to use their engines. So while each is its own company, Firman uses Kohler engines to power their generators. This will give you even more confidence in your Firman generator, as Kohler is a quality brand that provides quality machinery.
More About Firman Generators
Firman also has very high standards in the development of their generators. Every product that they put out goes through a thorough testing period.
Built to Last:  Every new model is tested for 500 hours continuously to ensure they catch any areas for improvement before production.
Ready for the Elements: They test all of their generators in a temperature-controlled room, simulating freezing-cold winter nights and blisteringly-hot summer days.
Designed and Tested: Their varied testing methods enable them to simulate different altitudes and ensure each generator performs its best in any circumstance.
High Standards: Each unit undergoes rigorous testing before it leaves the factory, so you can be confident that your generator will be ready when you need it. When it comes to quality, they never cut corners – and that's why their products are considered some of the best in the business.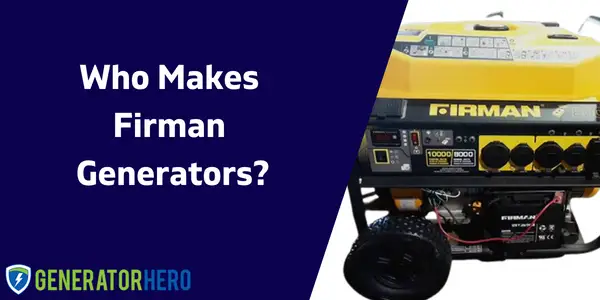 FAQ
Where is a Firman generator made?
Firman generators are designed and engineered in the United States. That means that when you purchase a Firman generator, you can rest assured knowing that it has been made to the highest standards.
Firman generators are built to provide longer run times and larger fuel tanks, so you can keep going even when the power goes out. And because they're made right here in the USA, you can be sure that your Firman generator will be backed by our excellent customer service.
Are Firman generators Kohler generators?
Firman generators are powered by Kohler engines, making them some of the most reliable and durable generators on the market. So while each is its own, they also combine together to create a quality generator that is trusted and used by many.
How long will a Firman generator last?
Firman generators are built to last. With proper maintenance, a Firman generator can run for years without any issues. However, the length of time that a generator will run on a 20lb propane tank will vary depending on the model and load.
For example, the bigger Hybrids units will last 5-6 hours at 50% load, while the Inverters will last up to 8 hours at 50% load. To get the most out of your generator, be sure to follow the manufacturer's recommendations for propane usage. With a little care, your Firman generator will provide years of reliable service.
What engine does a Firman generator have?
The Firman H07553 generator comes with a PGMA G300 CO shutdown and an electric start 74dB engine. This powerful machine can run for 12 hours on its 8-gallon fuel tank and is California emissions certified.
The Firman H07553 is a great choice for those who need a reliable and durable generator that can handle long hours of use. Thanks to its Phoenix Fat Head Block, the Firman H07553 runs cool and efficiently, making it a great choice for any job site or home workshop.
Can a Firman generator run in the rain?
With a Firman generator, you'll have peace of mind knowing that you can generate power no matter the conditions outside. We've all been there before; whether it's an unexpected outage or being caught in severe weather, a Firman generator will give you the power you need to keep your lights on and fridge running.
And if you're caught in the rain, don't worry – Firman generators are designed to run in wet weather conditions. So even if you don't have a shelter available, your generator will still be able to keep you powered up.
So next time a storm is brewing, know that your Firman generator has got you covered.
Who is the owner of Firman?
As the owner of Firman, SUMEC Group is a renowned company that specializes in trade and service, engineering contracting, and investment development. Founded in 1978, it has grown to become a Fortune 500 enterprise with interests in a wide variety of businesses.
In addition to Firman, some of its other notable brands include Yongkang Sunshine Mower Co. Ltd., China National Machinery Import & Export Corporation, and NewTimes Group. Given its size and scope, SUMEC Group is a powerful player in the global marketplace and is well-positioned to continue its growth in the years to come.
Do Firman generators need to be broken in?
Just like any other machine, a Firman generator needs to be properly broken in before being used for long periods of time. The recommended break-in period is to change the oil after the first 25 hours of use.
This will ensure that the engine is properly lubricated and running smoothly. After the initial oil change, it is recommended that you change the oil every 100 hours of use or at least once per year. By following these simple guidelines, you can keep your Firman generator running like new for years to come.