Champion generators are among the most popular brands on the market, and for good reason. Champion Power Equipment is a well-respected company that has been designing and manufacturing high-quality generators since 2003. 
One thing that makes Champion generators stand out is that they offer a wide range of products to suit any need. Their portable generators are perfect for camping or tailgating, while their home standby generators can provide backup power for your entire house in case of an outage. And if you need a heavy-duty generator for work or play, their industrial models are up to the task.
No matter what your needs are, Champion has a generator that will meet them.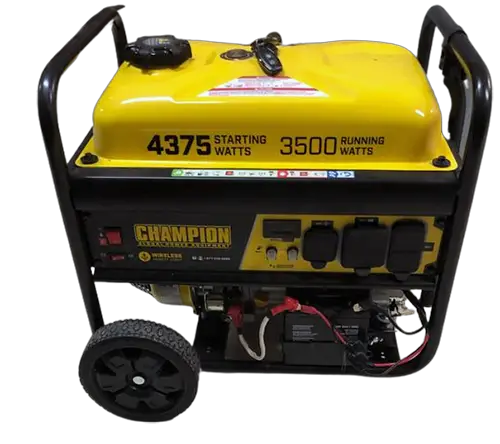 The Benefits of Using a Champion Generator
These modern engines are quieter and more powerful than traditional single-cylinder engines, making them excellent generator options. Because Champion Power Equipment offers several types of generators, they produce engines in various sizes. That said, all of the engines the company uses are known for being long-lasting and dependable. 
So whether you need a small engine for a portable generator or a larger one for a standby generator, you can rest assured that a Champion engine will provide the power and reliability you need.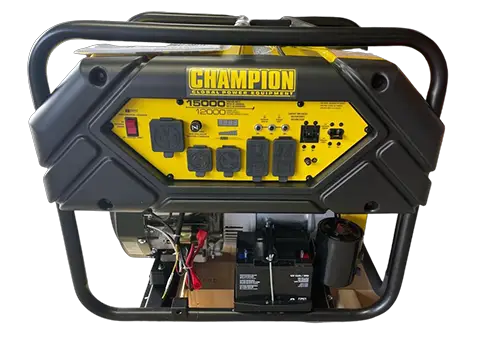 More About the Champion Brand
Champion Power Equipment is a trusted name in the world of power generation. For years, Champion has been providing dependable and durable products designed to meet the needs of North American and international markets. 
Champion products are known for their performance excellence, making them the perfect choice for home, work, or play. With a wide range of products to choose from, Champion has the right solution for your power needs. 
So whether you're looking for a backup generator for your home or a commercial-grade power solution for your business, Champion has you covered. 
Here are a few more areas where the Champion brand excels. 
Powerful Machinery: Champion Power Equipment has earned a strong reputation in the power equipment field in a short amount of time (started in 2003). The company has expanded its North American footprint to include facilities in Jackson, Tennessee, Milwaukee, Wisconsin, and Toronto, Canada. Champion offers a wide range of products, including portable generators, home standby generators, inverter generators, engines, winches, and log splitters.
With over 4.5 million generators sold in North America, Champion is a market leader in the power equipment field. The company's commitment to quality and customer satisfaction is evident in every product they produce. If you're looking for a powerful and reliable machine, Champion is the brand for you.
Stellar Customer Service: Champion Power Equipment is committed to providing the best possible customer service. They have a team of certified technicians who are available to answer any questions you may have about your Champion product.
They also offer a 100% satisfaction guarantee on all of their products. If you are not satisfied with your purchase, they will gladly refund your money or exchange the product.
Innovative Power Solutions: From dual-fuel portable generators to remote starting capabilities, Champion has been leading the way in product innovation. Their engineers are dedicated to providing tomorrow's technologies today so that customers can benefit from the latest and greatest advances in power solutions.
Whether it's finding new ways to improve portability or increasing run time, they are always looking for ways to make products more convenient and efficient.
Oil for Champion generators: What kind of oil does a Champion generator use? 5W-30 synthetic is the best choice, and our recommendation.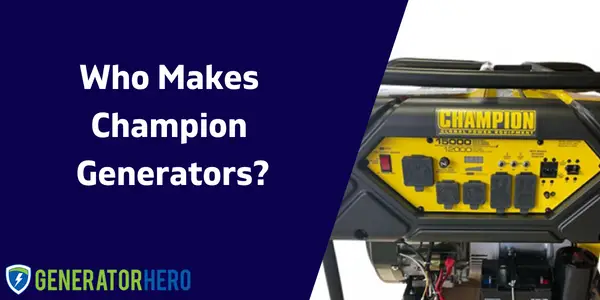 FAQ
What motors do champion generators use?
The 8000-watt generator is one of their most popular models, and it features electric start and Dual Fuel capabilities. This allows the 459cc engine to run on either gasoline or propane, giving users the flexibility to use whichever fuel is more readily available.
Is Champion generator Made in USA?
Products are made in China but designed and engineered in the US and Canada. Champion has years of experience providing dependable and durable power products designed and engineered in the US for the North American and world markets.
Is Champion generator a good brand?
Champion's generators are reliable and affordable, making them a great option for those in the market for a new generator. The company's dual-fuel technology is particularly impressive, as it allows the generator to run on either propane or gasoline. This flexibility is ideal for those who want the convenience of propane but don't want to be limited to using it only when natural gas is unavailable.
Champion's generators are also backed by a strong warranty, which gives buyers peace of mind in knowing that they're covered in case of any problems.
How long does a Champion generator last?
Champion generators are built to last. The 3500-watt RV Ready generator features Dual Fuel, allowing the 224cc engine to run on either gasoline or propane. Featuring Volt Guard™ and Cold Start Technology, this unit includes a propane hose and provides up to 9 hours of run time on gasoline or 10.5 hours on propane. We have written a post on how long a generator will last in general with more info.
So, whether you're using it for camping, tailgating, or backup power, you can rest assured that your Champion generator will provide reliable power for as long as you need it.