If you're looking for power, you'd be surprised how much you can run on a 5,000 watt generator.
5,000 watt generators are great for heavy duty applications. You could run a medium sized worksite, power most of your home appliances (excluding your AC), and provide loads of power for tailgating or RVs.
What can a 5,000 watt generator run? For starters it can handle your air conditioner, and likely more than that.
If you are looking to invest in a serious generator with lots of power, then check out the top rated 5000 watt generators below.
The 3 Best 5,000 Watt Generators
OUR TOP PICK
[1] Westinghouse WGen6000 Portable Generator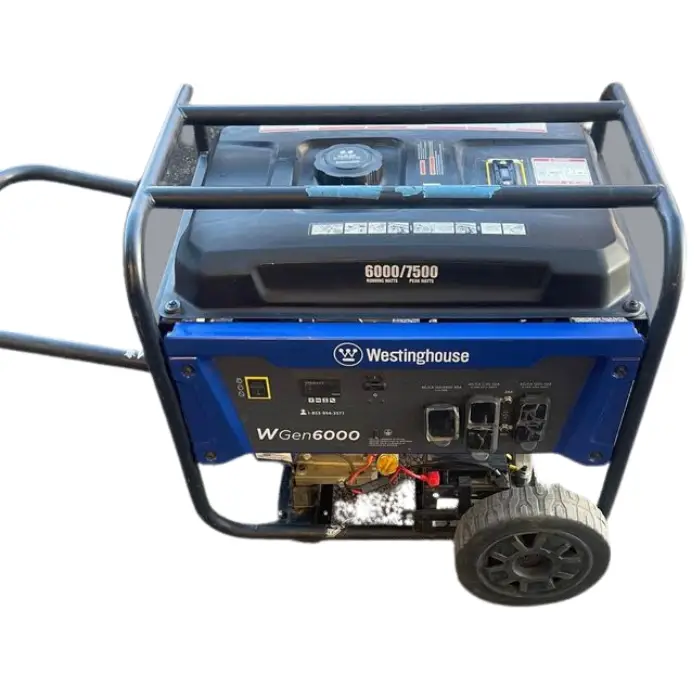 Check Price on Walmart (We may earn a comission)
At 6000 running watts, the WGen6000 is a true workhorse!
Ideal as a heavy duty power source or emergency home backup. With a run time of around 18 hours at half-load, this generator could be perfect or run a worksite or keep your AC unit running during a summer time power outage.
Fuel Tank / Runtime: The WGen6000 has a 6.6 gallon fuel tank capacity with a half-load run time of around 18 hours.
Sound Level: A respectable 72 dB.
Weight: Weighting in at around 174 pounds, the WGen6000 may be too heavy to move alone.
Warranty: 3 Year or 1000 hours (residential), 6 months or 1000 hours (commercial)
Portability: Wheel and handle kit is included for improved portability.
EDITORS CHOICE
[2] Champion 6250-Watt DH Series Open Frame Inverter Generator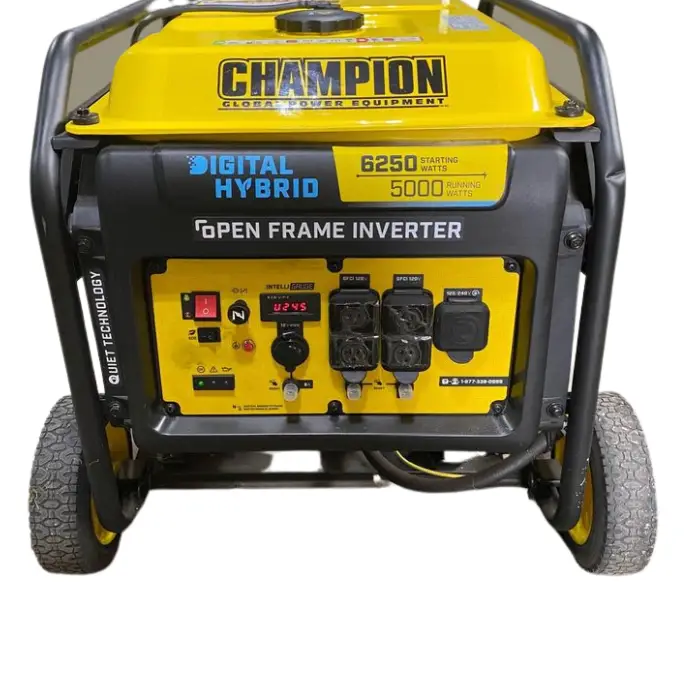 Check Price at Walmart (We may earn a comission)
Champion 5000 watt generator reviews will all point to the Champion 6250 Watt DH Series.
One of the best 5000 watt generators we've seen, the Champion 6250 provides clean power that is better suited for cell phones, computers, and other electronic devices that require a stable power source.
Fuel Tank / Runtime: The Champion 6250 has a 4.0 gallon fuel tank capacity with a half-load run time of around 12.5 hours.
Sound Level: A lower level 69 dB consistent with an inverter generator.
Features: 50% quieter & 20% lighter than a traditional 5000W portable generator.
The intelligent monitors voltage, frequency & Operating hours, & cold start technology ensures a quick start in cold weather.
As an inverter, you can connect your sensitive electronics since our hybrid produces only clean power (less than 3% THD).
Touch panel offers fast access to controls, while economy mode monitors power consumption in real time to reduce electrical load, providing quieter operation, extended engine life & higher fuel economy.
The covered outlets in this inverter include a 120/240V 30A locking outlet (L14-30R), four 120V 20A GFCI protected household outlets (5-20R) & a 12V DC Automotive-style outlet with a dual USB adapter & battery-charging cables.
Weight: Weighting in at around 132 pounds, the Champion 6250 is much lighter than peers in the 5000 watt range.
Warranty: 3 Year
Portability: Wheel and handle kit is included for improved portability.
BEST VALUE
[3] WEN DF475T Dual Fuel Portable Generator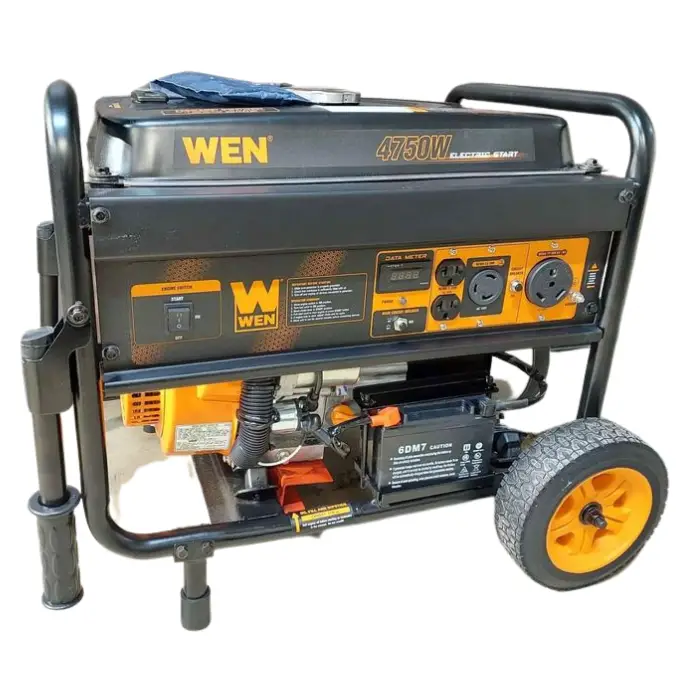 Check Price on Walmart (We may earn a comission)
While not quite 5000 watts, the WEN DF475T Duel Fuel Portable Generator is a very solid option for most buyers. With 4,750-watt surge power generation, the WEN is very powerful for the incredibly reasonable price tag.
As a dual fuel generator, the WEN provides the option to use either gasoline or propane based on what is readily available.
While you certainly cannot power your entire home. Running up to 3800 watts using gasoline, the WEN is powerful enough for most home applications.
Fuel Tank / Runtime: The WEN has a 4 gallon fuel tank capacity with a half-load run time of around 11 hours.
Sound Level: At a respectable 69 dB, the WEN is right in the middle of the pack on noise level.
Features: Top features include the dual fuel option, included wheel and handle kit, and 120V and 240V voltage selector option. Includes two 120V GFCI outlets (5-20R), a 120V/240V NEMA 30A twist lock (L14-30R), a 12V DC cigarette-lighter-style plug, a bottle of oil, a wheel and handle kit, and a 47-inch LPG connection hose.
Weight: Weighting in at around 105 pounds, the WEN is certainly too heavy to lift alone.
Warranty: 2 Year
Portability: Wheel and handle kit is included for improved portability.
RUNNER UP
DuroMax XP5500EH Fuel Portable Generator, Blue/Black
An excellent offering from generator giants DuroMax. This 5000-watt dual fuel generator can handle everything from lights to air conditioning units. 
Fuel Tank/ Runtime: 3.96-gallon gasoline tank. The recommended propane tank size is 20 gallons if you're going to use propane fuel. The user manual suggests a run time of 10 hours at half capacity. 
Sound Levels: 69 dB which makes it pretty much average. 
Features: Definitely the best thing about this generator is the duel fuel system. It allows you to use either gasoline or propane gas. Propane tends to be cheaper, cleaner, and easier to store than gasoline.We also love the RV outlet and the 2 120v household outlets that can be used simultaneously. The voltmeter on the front is also really handy for checking your consumption and the low oil light lets you know how your oil levels are doing.  
Weight: A solid 142 pounds. Not the heaviest but definitely not the lightest either. 
Warranty: 1-year warranty.
Portability: Supplied with a wheel kit and a handle to help you drag this workhorse around the home or jobsite. 
Best 5000 Watt Generator Buying Guide
Choosing the right generator can be a bit of a minefield. There seems to be an endless amount of options and features and the wattage listings are just downright confusing. 
Luckily, we're here to help! 
We've put together a handy buyer's guide to talk you through all the big decisions you'll need to make. This way, even if none of our suggestions take your fancy, you can shop with confidence. 
Is a 5,000 watt generator right for you?
The first thing you'll need to decide is what kind of generator you want to go for. You have a choice between traditional generators or inverter generators. 
The major difference between the two is the energy they create. Inverter generators take the alternating current produced by the generator and turn it into DC current. 
The inverter unit then turns that DC energy into AC electricity that is free from spikes and variations that can harm delicate electricals. 
We tend to call the power produced by inverter generators 'clean energy' because it is less distorted than the power produced by traditional generators. 
This clean power is much safer for use with phones, laptops, tablets, and sound systems. 
The downside to inverter generators is that they tend to be a lot more expensive than traditional generators. 
If you're looking for a generator for a worksite, you probably don't need an inverter generator. If you're going to use it at home or for camping, an inverter might be a good choice. 
Fuel for a 5,000 watt generator
Most 5000-watt generators are gasoline-fueled. They need a considerable amount of fuel to produce that amount of electricity and gasoline does the trick. 
However, you can buy dual fuel generators that allow you to switch between gas and propane fuel. Propane is cleaner, cheaper, and has a longer shelf life than gasoline. This makes dual fuel generators very appealing. 
The thing you need to remember is that if you use propane fuel you will have to lug around a propane tank as well as the generator. If you're taking it camping or in the RV, you may want to consider whether you have the storage space for a propane tank as well as the generator. 
Fuel Tank Capacity/ Runtime of a 5,000 watt generator
While we're talking about fuel, let's look at the fuel tank capacity and what that means for your generator. 
The tank capacity is a measure of how much fuel your generator can hold. It is measured in gallons and for a 5000-watt generator, the capacity should be around the 4-gallon mark. 
You want to look for a generator that has a decent sized tank. Otherwise, you'll be forever marching back and forth to fill it up with gas. 
The larger the tank, the longer the generator can run for.
In product listings, manufacturers will often list the runtime of the generator. This is great because it allows you to gauge how long you can use it before needing to fill up. 
You should be aware though that the runtime listed is worked out by running a generator at half the total output value. 
Sometimes they also list the 75% output runtime but rarely do they list at 100%. It's not so much that they are trying to trick you. More that, in general, we tend to run our generators at less than full output capacity. 
Noise Level of a 5,000 watt generator
This is important if you plan on using the generator at home or while you're camping. After all, nobody wants to hear a generator chugging away while they're trying to watch television or enjoy the great outdoors. 
The noise level of a generator is listed in decibels (dB). For a 5000-watt generator, about 68 dB is pretty average. 
To put that into context is about the same noise level as an office or sitting in a car going at 60mph. 
The decibel level is worked out from a distance of 21ft. This is because you shouldn't have your generator too close to your campsite or living area. The emissions from the engine can damage your health. 
5,000 Watt Generator Weight and Portability
Look, 5000-watt generators are serious bits of kit. They do weigh a fair amount though newer generators tend to reduce the weight somewhat. 
For a generator of this size, you should expect the weight to tip the 100lb mark. The majority hover around 120lbs. 
The reason weight is important is because we often have to move these generators around a worksite or a campsite. Even if you're using it at home you may need to move it from time to time. 
Lifting these generators takes more than one person. They tend to have roll cage type frames that allow you to get a good grip. These frames are also handy for moving the generator with a crane. 
One thing that sets a generator apart from others is if it is supplied with a wheel kit. This kit allows you to attach wheels and handles to the frame. Generally, it's one set of wheels that you tip the generator onto when you want to move it.  
Not all generators are supplies with a wheel kit, so read the product description carefully. 
Safety Features
5000-watts is a lot of power to have sitting around. You do not want to be on the receiving end of that much electricity and neither do your appliances. 
Most generators feature a low oil shut off system. This prevents the engine from working when the oil is too low. By shutting off, the engine is protected from overheating and damage that can occur when there's not enough oil. 
Often, generators with low oil shut off system will also have a low oil indicator light. This allows you to address the situation before the automatic shut off kicks in. 
You also need to make sure that your generator has an automatic voltage regulator. This device is responsible for providing a constant level of voltage output appropriate for the appliances drawing power. 
In terms of the outlets, you want to make sure they are well protected especially if you intend to use the generator outdoors. 
Output of a 5,000 watt generator
What you plan on using the generator for will dictate the outlets you need. If you are going to use the generator with an RV then you will need a twist and lock outlet that is compatible with your RV's power cable. These outlets tend to run at either 120v or 240v depending on what is needed. 
Most generators also have at least 1 120 v standard household outlets. These are great for running power tools and most household appliances.  
Be aware that washing machines and tumble dryers tend to use 240v outlets so you may need to check that your generator can provide this kind of outlet.
Warranty
Ideally, you want as long a warranty as possible. The average tends to be around 2 years though some are longer. 
What you need to be careful of is the wording of the warranty. Limited warranties only apply to certain parts of the machine or under certain circumstances. 
Also, some companies provide different warranties depending on whether the generator is going to be used in a residential or commercial setting. 
Always read the warranty information before you purchase your generator. 
Frequently Asked Questions
Can a 5000-watt generator run a house? 
5000-watts is a significant amount of power and, depending on what appliances you have in your home, might be enough to keep you going. 
Most generator manuals will have a table of appliances and their power draw. You'll need to add up the power draw as you plug your appliances in. 
One thing to remember is that even though the generator might be listed as 5000-watts you need to take into account how many watts the generator needs to start and run. For example, a generator may be advertised as 5500 watts.
This is the starting watts. The true running watts is actually 4500 because the generator needs 1000 watts to keep itself going. 
Whenever you're calculating how much energy you are using you need to use the running watts value not the starting watts value. 
Is it OK to leave a 5,000 watt generator running all night? 
The only mechanical reason not to use the generator throughout the night is the possibility that the fuel may run out.
You'll need to make sure that your generator has a runtime long enough to last through the night. 
You also need to factor in a bit of cool down time the next day. You should never refill a running generator and you are strongly advised not to refill a warm generator. The heat of the engine may ignite the fuel. 
The other thing you should consider is the noise level. You may have a quiet generator but it is going to sound a heck of a lot louder at night when there is less ambient noise in the house. Your neighbors may not be best pleased if your generator keeps them up.