When you need power in a pinch, a 3000 watt generator can help running power tools and even major appliances. You certainly can't power you whole house, but finding the best 3000 watt generator for your situation can be a real life saver!
3000 watts is on the smaller end for generators, however at this output level, 3000 watt inverter generators are plentiful. For many applications inverter generators make a lot of sense – they provide "clean" power for sensitive electronic devices like cell phones and computers.
Check out some of the top reviewed 3000 watt generators perfect to provide that extra power when you are in a jam!
Note that 3000 watts falls within normal industry breakpoints. You can often find many around 2500 watts and 5000 watts, so a few below will not be exactly 3000 watts – but the idea is to find the best capable of producing around 3000 watts.
Best 3000 Watt Generators
[1] WEN GN400i 4000 Watt Open Frame Inverter Generator
With 4000 surge watts and 3500 rates watts, the WEN GN400i is perfect for those looking for a solid all around generator.
This generator comes with all the bells and whistles, is highly rated, and is reasonably priced!  A perfect option for anyone looking for the perfect inverter portable generator that could power electronics and small appliances.
Fuel Tank / Runtime: The WEN GN400i has a 1.9 gallon fuel tank capacity with a half-load run time of around 7 hours.
Sound Level: Approximately 70 dB at half load, it is louder than smaller model inverter generators, but once you get above a certain size, its hard to find many that are whisper quiet.
Features: The WEN GN400i features clean energy free of voltage spikes and drops while also providing an impressive 4000 surge watts.
This generator limits total harmonic distortion making it safe enough to run laptops, cellphones, monitors, tablets and other vulnerable electronics. 
The panel comes equipped with two three-prong 120V NEMA 5-20R receptacles, two 5V USB ports, and one 120V RV-ready TT-30R receptacle. 
Maximize fuel economy with the Eco-Mode Throttle – allowing the generator's motor to automatically adjust its fuel consumption as items are plugged and unplugged from the panel, preventing the usage of unnecessary gasoline.
Weight: 70 pounds
Warranty: 2 Year
Portability: External frame for carrying
WEN GN400i Inverter Generator Manual
---
[2] Champion 3800 Watt Dual Fuel Generator
The Champion 3800 makes a great addition to your RV as well as a cost effective and convenient solution for power outages or other emergency situations.
For RVers – it comes travel-ready with a standard 30A RV outlet with enough power to start and run a 15,000 BTU RV air conditioner.
This generator is a great solution for backup power during an emergency and will power the essential items you need in a power outage – lights, sump pump, refrigerator, modem/router, furnace blower, fan, TV/DVD, computer, smartphone/tablet charger, etc.
All around, this is a great option for anyone looking for a quality dual fuel generator at a reasonable price.
Fuel Tank / Runtime: The Champion 3800 has a 3.4 gallon fuel tank capacity with a half-load run time of around 9 hours (or 10.5 hours using propane).
Sound Level: Approximately 68 dB at half load.
Features: The Champion 3800 features push-button electric start which includes an internal battery charger that charges the batter as the generator runs. 
As a dual fuel generator, propane has a much longer shelf live than gasoline meaning you won't need to worry about having fresh gasoline on hand during an emergency. 
The generator features Volt Guard, a built-in surge protector which protects your appliances from any spikes in voltage above a safe threshold, as well as Cold Start technology which optimizes the generator to start easily in cold weather. 
It also comes with 120V 30A RV (TT-30R), 120V 30A locking (L5-30R) and two 120V 20A household outlets (5-20R). The Intelligauge (volts, Hz, hours) allows you to easily monitor power output and track maintenance intervals.
Weight: 119 pounds
Warranty: 3 Year
Portability: Wheel kit included
Champion 3800 Dual Fuel Generator Manual 
---
[3] DuroStar DS400S Portable Generator
If you are looking for a no-frills generator to provide reliable power when things go out, then look no further. 
The DuroStar does not include may of the features of others (gas only, not an inverter, no electric start). However, to make up for the lack of extras, this work horse to dependable and affordable!
Fuel Tank / Runtime: The DuroStar DS400S has a 4.0 gallon fuel tank capacity with a half-load run time of around 12 hours.
Sound Level: Approximately 69 dB at half load.
Features: The DuroStar DS400S comes with 4000 watt peak and 3300 running watts designed to for light duty emergency backup applications. 
The power panel includes a selection of outlets for maximum compatibility in your applications including: 2 120V household outlets and 1 120V 30A twist lock outlet. The panel also includes a voltmeter for measuring voltage output.
Weight: 105 pounds
Warranty: 3 Year
Portability: Wheel kit NOT included
DuroStar DS400S Generator Manual
---
RUNNER UP
Westinghouse IGen4500 Portable Inverter Generator
The Westinghouse iGen4500 comes fully loaded – remote start inverter generator that only puts out 52 decibels of sound!
For those looking for 3300 running watts of "clean" inverter power, then this generator is a top pick.
With built in wheels, and weighing less than most peers the iGen4500 is a great back up generator or high end unit to take tailgating, camping, or add to your RV.
Fuel Tank / Runtime: The DuroStar DS400S has a 3.4 gallon fuel tank capacity with a 1/4-load run time of around 18 hours (not comparable to others who report half-load run times).
Sound Level: Approximately 52 dB at half load.
Features: The Westinghouse iGen4500 is a premium power solution to meet your portable power needs.
With a TT-30R RV Ready Outlet, two 20A household outlets, and built-in USB ports, this generator is ideal for recreational activities or as an emergency backup source. 
It's engineered for maximum fuel efficiency with a variable engine speed to produce only the power you need at any given time, running for up to 18 hours on a 3.4-gallon fuel tank to save you repeated trips to the gas station. 
Conveniently built with Push-Button Electric Start and wireless remote start. 
As an inverter generator, the iGen4500 is perfect for running electronics like LCD/plasma televisions, laptops, tablets, or mobile devices that require clean, stable power. 
The LED Data Center has an automatic rotating digital display to keep you up to date for maintenance with real-time information. It features a lightweight, compact design with wheels and an extendable suitcase-style handle,
Weight: 98 pounds
Warranty: 3 Year
Portability: Fixed wheels included
Westinghouse iGen4500 Portable Inverter Generator Manual
RUNNER UP
Briggs & Stratton 30545 P3000 PowerSmart Series
If you're in the market for a high quality inverter generator, then look no further than the Briggs and Stratton 30545 P3000 PowerSmart Series generator.
This generator is very easy to use, provides you with impeccable value for money and will run for quite a long time.
So, why should you buy this generator? Well, for starters this generator is made with something called Quiet Power Technology. 
In essence, this will chenge the speed that the engine is running at to precisely what you are going to need based on the power demands at the time.
It's even parallel capable, which means if you have two of these generators you can connect them together to have even more power.
The generator is incredibly simple to use too, with an LCD screen where you can keep an eye on the amount of power you're using, how long the generator has been operating for and when you are going to need to maintain it. 
It also comes with a USB port that you can use to charge smaller electronics such as smartphones. In addition to this, the telescoping handle makes it so much easier to carry around the generator. It's a little heavy, though!
Pros
Easy to monitor device's performance
Runs for a long time
Parallel compatibilities
Cons
Best 3000 Watt Generators
When you've never bought a generator before, it can feel a little bit daunting to narrow down what will be the best option for you. 
After all, what exactly do you need to look for? You need not worry – here are some of the key things that you should think about when buying a 3000 Watt Generator.
Fuel Capacity
This may seem very simple, but the amount of fuel that your device is capable of holding can directly influence how long it is capable of running.
In general, when you're shopping for a 3000 Watt generator you can usually anticipate a fuel capacity anywhere from 0.6 gallons to 5 gallons in total. There's another thing to think about too – the larger the fuel capacity, the larger your generator will be. This means it's not going to be as portable.
This is a pretty small price to pay when you think about it. After all, if the generator has a large capacity then it's likely to last for much longer. This is especially important if you're in an emergency situation and you need your generator to stay on for quite some time to keep your house powered up.
In short, if you have a generator that only has around a gallon of capacity, then the chances are that it will only give you a couple of hours worth of running time. 
Alternatively, a particularly large capacity could mean that your whole house can stay connected to electricity for as much as 20 hours in some cases.
Usually, fuel capacity is reported as a statistic in relation to a generator's run time. For instance, you may find a generator that has a value of 25% or 50% output. If the generator's output is higher then the fuel will drain much faster.
Fuel Efficiency
While the vast majority of portable generators are fairly fuel efficient, this is not the case with every single generator. 
Some generators have larger tanks than others, some fuels aren't as efficient, and there are so many other variables that can impact the overall fuel efficiency of your units.
You'll have to do some calculations to figure out how efficient your generator is, but it's really just best to look at other things such as the capacity and fuel type.
Portability
Portability is certainly one of the most important factors to consider, especially if you intend to take the generator camping with you or if you are going to be using it in an emergency.
A generator doesn't necessarily have to be small to be portable, however. For instance, portability could refer to handles, weight and the wheels.
Usually a lot of 3000 watt generators will weigh more than 70 pounds – this certainly isn't light, but you can also find some that are close to 100 pounds. Not everyone can pick this up easily, so you'll need to consider other things.
Certain things will influence the weight of the generator, such as bigger fuel capacities, more outlets or other things such as heat shielding. If you need to move your generator around a lot though, you should at least be looking for a generator that has a minimum of two handles. 
The handle should also telescope and having wheels is also pretty handy as you won't need to lift the device at all if it has a good handle and some wheels.
Noise
This is an important consideration if you need the generator for something like camping. Certain generators like inverters are usually pretty quiet, to the point that you could easily talk over the noise without needing to scream and shout.
With that being said, manufacturers are often hesitant to state their noise ratings on their products. This is because nobody wants a really loud generator that will wake up their neighbors, or something that will keep you awake at night. 
In short, the best way to find out how noisy a generator is is to trawl through online reviews.
In general, most of the quietest generators on the market have a noise output of around 50 dB, though some of them can even be as loud as 75 dB. 
For camping and RVing, it's essential to have the quietest generator possible, though this may not be all that important if you're working on a construction site for instance.
Power Output Ports
When you're buying a 3000 watt generator, you really need to think about the number of power outlet ports available. 
You should be looking at a generator that has two 120 volt household outlets at the minimum, though there are plenty of options out there with four or even more than this.
It's also worth looking for generator that have extra special outlets, such as USB ports or biggest outlets. These can be pretty handy, especially if you need to charge a smaller device such as a smartphone. 120 volt household outlets are absolutely the priority, however.
Ease of Use
The last thing you want is to be spending the rest of your life trying to figure out how a generator works. It's important to have a generator that's easy to use, as it can impact how safe it is to use and ultimately how effective it is.
Some things to think about include the interface of the device, the instructions that it comes with, and the instructions that are printed right on the generator. You should also consider the circuit breakers as some of them can be much harder to use.
There are also certain generators that come with LCD screens, and these will show you key information that you need to know. Others come with things such as indicator lights. These are all big selling points that you should consider.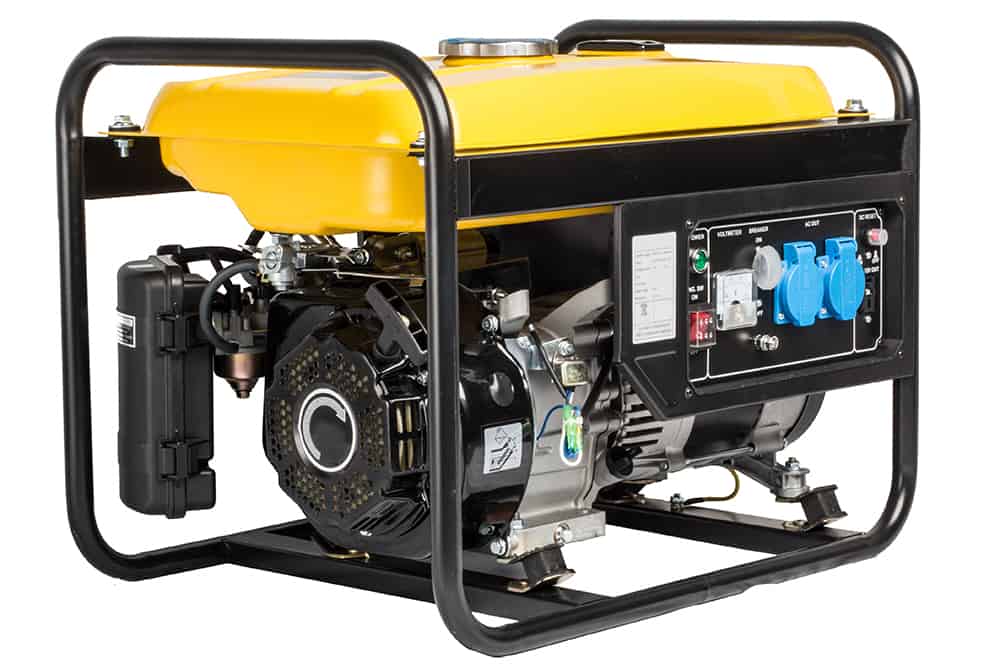 Safety Features
When it comes to electrical devices, it's essential that you consider your safety. The last thing you want is to have an accident.
Some things that you should look for include exhaustcontrol, automatic shutoff and heat shielding.
There are some generators that also have an automatic low oil shut down system, and this means that the generator won't work if the oil is low or if the temperature is too high. This will normally be shown by an indicator light on the generator. 
Unfortunately if you don't have this feature, you will need to ensure that you keep a better eye on the amount of oil in the generator to avoid an accident. It can also mean that wear and tear on the parts of the generator is more likely, and the engine can just stop working.
You may not find exhaust control on many devices, but it's a pretty important factor to consider. Some portable generators can release poisonous fumes into the air that can kill people. Some things make this less likely to happen, such as an automatic shut off when the exhaust pipe has blocked up it useful. Not all generators have this feature.
You should also look out for generators that have heat shielding. This is because some generator can get exceptionally hot when they are working, and if you touch the device at this point you could end up getting burned. 
Not to mention that a surface without heat shielding is more likely to contribute to heat loss, making them less efficient overall.
Maintenance Considerations
Many generators are pretty low maintenance, and you may not need to worry too much if you don't use your generator very often. 
On the other hand, if you plan on using the generator a lot then you should look for features that make maintaining your device much easier. For instance, things such as wrench sets, motor oil level indicators and screws that can be removed easily are especially useful.
Above all else you should be looking for a motor oil level indicator because this helps you to keep an eye on the oil level regularly. This is the most common type of maintenance that you'll have to do with a generator.
Not all generators come with wrench sets, and this can make it tricky to get inside of the generator and do any maintenance. This may not be that important if you already have some hex wrenches at your disposal.
Parallel Capability
Not all generators on their own can give you the power you need to get your electrical goods working. In this case, getting a generator that has parallel capabilities is handy. 
This will allow you to hook two generators up together in parallel function, meaning that you'll have 6000 watts of power available to you rather than 6000 watts. 
This is ideal if you intend to upgrade your electronics later on or if you have higher power needs later down the line. Not all generators offer this functionality, however.