Getting off the grid and into the woods can be a chance to disconnect. But it doesn't mean you have to give up all the comforts of home.
Having a portable generator for your camping trip can let you enjoy the experience even more. With a source of electricity at your campsite, you can bring things like portable lights, an electric stove, or even a screen to watch a movie under the stars. Plus, if you're camping for an extended period, it can be extremely useful to be able to recharge your electronics at the end of each day.
When it comes to choosing the best generators for camping, the main considerations are portability and noise.
Depending on where you're camping, you may have to hike your gear in a way from your car. In that case, every pound of your generator matters. Opting for a lightweight generator – one that weighs around 50 pounds or less – can make it significantly easier to get your generator from your car to your tent.
On the other hand, you can opt for a portable generator with wheels. In this case, keep in mind that you want a generator with relatively heavy-duty wheels that won't flat halfway through your hike.
The other important thing to think about is the amount of noise your generator will produce. The last thing you want is for your wilderness solitude to be pierced by the sound of a generator's engine roaring for hours at a time. And if you're staying in a campground, starting up a noisy generator is a quick way to annoy your fellow campers.
When it comes to portability and quiet, it's hard to beat inverter generators. These modern generators are significantly lighter, less noisy, and more efficient than conventional gasoline generators. Plus, you can use them safely to charge sensitive electronics like your smartphone or computer.
The main downside to inverter generators is that they are typically more expensive than conventional generators. But that price difference can be well worth it for having a generator that you actually look forward to bringing along on your camping trip.
Also keep in mind that your choice of generator affects the type of fuel you'll need to carry with you. Most inverter generators run on gasoline. However, if you're already planning on bringing a propane-powered grill on your camping trip, it may make more sense to opt for a generator that can also run on propane. In that case, dual fuel generators give you the versatility to produce power from either gasoline or propane.
Unfortunately, dual fuel generators are typically heavier and louder than inverter generators. But the added flexibility can be worth it, especially if you don't have any neighboring campers that may be bothered by the noise.
With those considerations in mind, let's take a look at five of the best generators for your next camping trip.
Best Generator for Camping
OUR TOP PICK
[1] WEN 56200i 2,000-Watt Inverter Generator
Rated Wattage: 1,600 watts
Noise Level (25% load): 51 dB
Estimated Runtime (50% load): 6 hours
Weight: 48 pounds
This incredibly quiet and portable inverter generator is our top pick for your next camping trip. The 1,600 rated watts are more than enough to power lights, electronics, and even an electric grill in the backcountry, without offering overkill that would add to the weight and noise of the generator.
While the generator doesn't have wheels for easier transport, it weighs just 48 pounds. So, as long as you're walking less than a few miles, you won't have any trouble moving this generator from your car to your campsite.
This WEN generator puts out 51 dB of noise at a 25% load, so it's not the quietest inverter generator on the market. But saving a few more decibels could easily cost hundreds of dollars more, and this generator is already quiet enough to hold a conversation around.
The only downside to this generator is the short six-hour runtime at half-load. The culprit is the extremely small one-gallon gas tank. If you're camped for more than a night or two, you'll likely need to carry in a spare gas tank with you to keep this generator going.
Pros:
1,600 rated watts
Weighs just 48 pounds
Quiet enough to hold a conversation
Relatively inexpensive for an inverter generator
Cons:
Small one-gallon gas tank limits runtime
EDITORS CHOICE
[2] Champion 3,800-Watt Dual Fuel Generator
Rated Wattage: 3,800 watts
Noise Level (25% load): 68 dB
Estimated Runtime (50% load): 9 hours
Weight: 119 pounds
This burly dual fuel generator from Champion is the perfect choice for extended camping and RV trips.
The generator provides 3,800 watts of continuous power and up to 4,750 watts of surge power, so you can run everything from a portable refrigerator and freezer to an air conditioning unit.
Better yet for RV campers, the outlet panel has an RV-ready outlet so you can plug directly into your vehicle's power grid.
The ability of this generator to run on either gasoline or propane is another significant benefit.
Many RV users keep propane tanks around to power a grill, so with this generator you can use the same propane tank for power and cooking. The large fuel tank also allows you to run the generator on gasoline for up to nine hours at half-load.
Of course, all of these features mean that the generator isn't the best choice for true backcountry camping. 
The level of power is overkill for most trips that involve tent camping, and the 68-dB noise level is enough to be quite annoying when you're standing outside with the generator.
While the generator is mounted on burly wheels that can handle trails, the 119-pound weight makes it hard to life the generator in and out of a vehicle.
Pros:
Enough power for big appliances
Dual fuel generator
RV-ready outlet
Nine-hour runtime on gasoline
Three-year warranty
 Cons:
Noisy and heavy
Overkill for camping trips without an RV
BEST VALUE
[3] Pulsar G2319N 2,300-Watt Inverter Generator
Rated Wattage: 1,800 watts
Noise Level (25% load): 59 dB
Estimated Runtime (50% load): 6 hours
Weight: 47 pounds
This budget-friendly inverter generator from Pulsar competes with the WEN generator on weight, but trades off noise in exchange for more power.
The generator is capable of producing 1,800 watts of continuous power and up to 2,300 watts of surge power, which opens up possibilities for running a refrigerator and freezer on your camping trip.
However, the 59 dB of noise produced by this generator can be somewhat problematic if quiet is a priority.
While you'll be able to hold a conversation around the generator at low loads, the generator noise can rival that of a conventional generator at full load.
Also note that, like the WEN generator, this generator has a very small gas tank. Again, you'll be limited to just six hours of runtime at half-load, so you'll likely want to carry a spare gas tank for multiple nights out.
That said, tent campers may still appreciate this generator for its useful outlets.
The generator panel includes a USB outlet that is perfect for powering small lights or charging electronics. There's also a 12-volt DC outlet so you can use the generator instead of wearing down your car battery.
Pros:
Relatively inexpensive
1,800 watts of continuous power
USB and 12-volt DC outlets
Cons:
Somewhat noisy for an inverter generator
Limited to six-hour runtime
Best Generator For Camping Buying Guide
When it comes to choosing a generator for your camping trip there are a number of factors you should take into consideration, as well as number of features you may want your generator to have.
It is important that you get to grips with what you need from a generator before buying one, and this is what we aim to do in this section. The Buyers' Guide will let you know exactly what you should be looking out for. So, without further ado, let's get into it. 
Type of Generator – Inverter or Dual Fuel 
The first thing that you will want to consider when thinking about getting a camping generator is whether you want a dual fuel generator or an inverter generator.
Each of them has its own positive aspects as well as its downfalls. To gain a better understanding of each of them, they should be explored separately. 
Dual Fuel 
Dual fuel generators have the excellent ability to run using both gasoline and propane.
This can be a really attractive choice for those campers who are already going to be carrying propane with them for things such as BBQs, grills, and other camping equipment.
They can also offer peace of mind in the sense that if you run out of propane, you can typically get some gasoline easily at a gas station.
Likewise, if you run out of gasoline, propane is widely available to purchase. They are slightly more versatile than their inverter counterparts and tend to be a little cheaper to buy.
However, the downside is that they do tend to be a lot heavier to carry and the noise levels can be much louder than those on an inverter generator. 
Inverter 
Inverter generators are lightweight and have reduced levels of noise to make for easier transportation and a night of better sleep if you will be running it through the night.
They tend to be far more energy efficient than dual fuel generators, as well as producing cleaner electricity.
This means that they are the better choice for more delicate electronics such as mobile phone devices and laptops.
The only downside is that inverter generators are slightly more pricey than their dual fuel counterparts. 
What generator you choose is totally down to you and your needs when you are camping.
Weigh up the pros and cons of each of the generator types and make a decision based on what you need for your camping trips. 
Weight of the Generator 
As we have already mentioned in the section above on the different types of generators, the weight of a generator should also be considered.
It is important that any generator used for camping is easy to carry, hence the need for having something as lightweight as possible. Inverter generators lend themselves to being lighter far more than dual fuel generators do, however, you can still get dual fuel generators that have manageable weights.
The exact weight of the generator will depend on your needs. Consider how much your other camping gear weighs before making a decision. You do not want to add any more unnecessary weight onto an already extremely heavy trailer or even in the boot of your vehicle. 
Portability
Linked to the above section on the weight of the generator is the portability of it.
As well as being lightweight enough to carry, you also need to ensure that it can be easily carried and will fit into your trailer or car boot.
This is very important as some generators can be overly bulky or awkwardly shaped which can make it harder to store away into your vehicle before a camping trip.
Look for generators that come with their own carrying case or ones that promise in their product description that they can be easily stored away.
It may also be worth checking customer reviews to see how easy other campers have found your chosen generator to transport on their trips and load into their cars or trailers. 
Noise Levels 
It is no secret that generators of any size can make a hefty amount of noise. Consider this when choosing your camping generator.
When you are on a camping trip, you are likely to be sleeping in close quarters to each other and to your gear.
The last thing you want is a loud generator keeping you and your family or friends up all night. As well as this, if you are on a campsite it is likely that your camping neighbors may even be able to hear your generator.
Choose one that promises low noise levels. Inverter generators are known to be far quieter than their dual fuel counterparts.
As well as this we also recommend checking customer reviews for any generator that you are considering purchasing, as these are more likely to give you an honest review of what the noise levels are really like. 
How much it can handle 
Consider how many devices and camping equipment pieces (for example your mini fridge and other cooking equipment) the generator can handle.
Each person will have different needs, of course, but you should carefully consider the wattage of each of your devices and what the total wattage will be for the devices overall. We always recommend over estimating when it comes to power wattage.
This ensures that you will always have room to add extra if needed. If you underestimate how much power you will need, the results could be disastrous and could cause the generator to break and may even damage any devices plugged into it. 
Run time 
Lastly, you should consider how long the generator is able to run before it runs out of power. This is especially important if you plan to run it overnight or throughout the day for long periods of time.
Again, this will depend on your needs, but it is especially important to consider if you have a camping refrigerator that needs to be plugged in.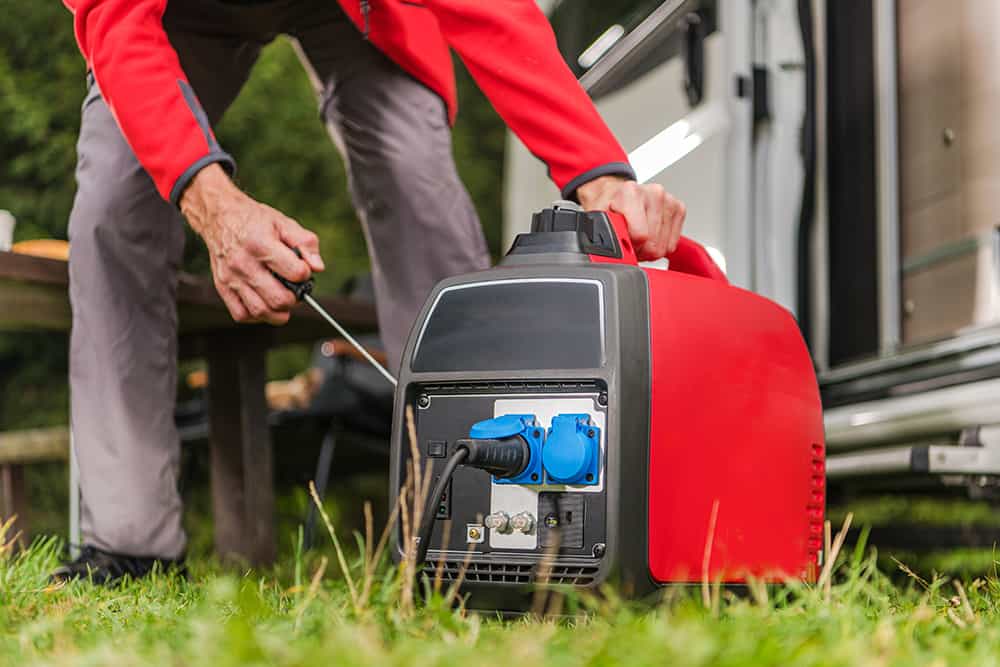 Frequently Asked Questions 
Can you run a generator overnight? 
Typically, each generator comes with its own instructions detailing how long it can be left on before running out of power. You will usually find that this is around 8 hours at the most, which is around the time that most people sleep for.
With this in mind, a generator can, in theory, be left on overnight. However, there are some things that need to be considered first.
For example, they are often very noisy and this can bother you, your fellow campers in your tent, and anyone who sleeps around you.
As well as this, you are never supposed to refuel your generator whilst it is still running or whilst it is hot after being used. This may interfere with your ability to keep it running constantly as it will likely need a 'break' between refills. 
Can you run a generator in the rain? 
No, it is not recommended that you run a generator in the rain.
A generator should be kept dry and away from extreme weather conditions.
We recommend that you ensure your camping generator is always kept in a waterproof area so that no water can come into contact with it.
It must be properly grounded at all times on the dry ground, or else you risk being hurt by the generator or electrocuted. 
Can I put a tarp covering over my generator whilst it is running? 
Tarpaulin coverings are great to use as protection for your generator whilst it is not in use.
However, what about when it is in use? Many people want to protect it from the elements when it is being used.
Many people may also think that keeping tarpaulin over the generator whilst it is running may muffle some of the noise.
We do not recommend covering your generator tightly with tarpaulin. Do not cover it directly with any material when it is in use.
Instead, you can fashion a shelter for it that can hang above it. However, you must ensure that there is adequate air ventilation getting to your generator or else you risk overheating it. 
What happens if you plug too many things into a generator? 
When a generator gets overloaded, this can have disastrous effects on not just the generator but anything that is plugged into it.
It can result in intermittent power reaching everything that is plugged in, which could shorten the lifespan of devices or break them outright.
If your generator has a circuit breaker, then the generator should simply turn off without causing anything dangerous to happen.
However, if there is no circuit breaker on the generator, then it could lead to it becoming overheated, and could even cause the devices plugged in to overheat.
In turn, this could have catastrophic results such as fires. In any situation, fires are dangerous and deadly.
However, when camping, fires have the ability to spread even quicker and cause damage to other tents that are near you.
This is especially dangerous overnight as there is less chance that you will notice it with enough time to act. Never plug in too many devices to your generator!
Conclusion
Having the right generator for your next camping trip can open up a world of possibilities – lights, refrigerated foods, and entertainment.
But when choosing a generator for camping, it's important to keep in mind that portability and noise are at as much of a premium as watts.
Our five favorite generators for camping offer the best blend of power and versatility for whatever trip you have planned.